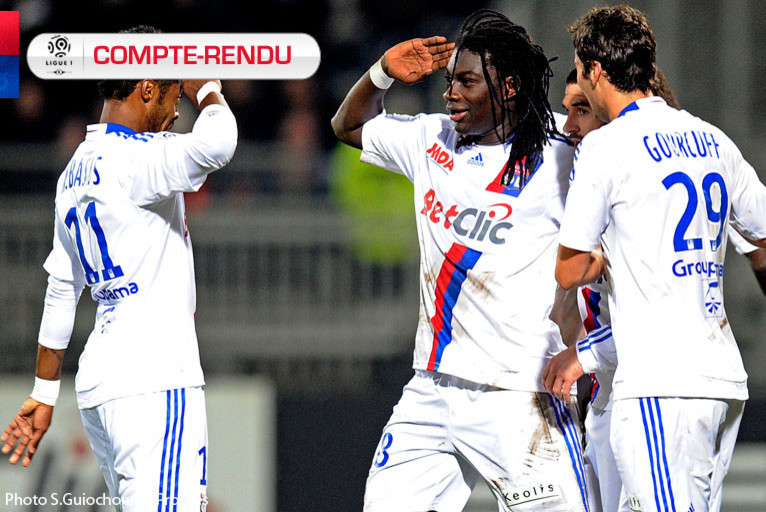 The Olympians won in great style (3-0) against a Lorient side who were overrun in all departments.
Olympique Lyonnais hosted FC Lorient in the first match of the second phase in the league.
Lyon showed a great deal of application in the first minutes of play. Yoann Gourcuff created the first opportunity and forced Audard to push the ball out for a corner (3'). Seconds later the Lorient goalkeeper was again brought into contribution following a header from Lovren which was goal bound. After this bright start from OL, the debates became more balanced. Bafé Gomis procured a good opportunity following a deep ball but missed the target (18'). The intentions were good but the centres were just too rarely dangerous. Gourcuff then Bastos distinguished themselves from long range shots but twice the Breton keeper pushed the ball out for a corner (29' & 37'). Claude Puel's players opened the scoring after a great interception from Réveillère who slid the ball to Gomis, the striker then instantly fired in a left foot effort which crucified Audard (41'). The Olympians returned to the changing room with a one-goal advantage.
Christian Gourcuff's men played higher up the pitch at the start of the second period. Nevertheless it was Licha who tried his luck from twenty metres out after an OL counter-attack (50'). OL put themselves out of harm's way thanks to a magnificent volley from Kim Kallström which finished its journey just inside the post of a helpless Audard (53'). Just afterwards, Kim Kallström messed up a new shot following a cross by Réveillère but this profited Bafé Gomis who placed a header under the crossbar (56'). OL had just killed the game and Gerland was thrilled. Gomis was irresistible and was close to achieving a hat-trick but his effort was saved by Bourillon on his goal line (65'). Towards the end of the match Lisandro showed he was hungry for a goal but unfortunately he just missed a great chance that he had made for himself. The Olympians imposed themselves with style and began the second half of the championship in the best way possible.