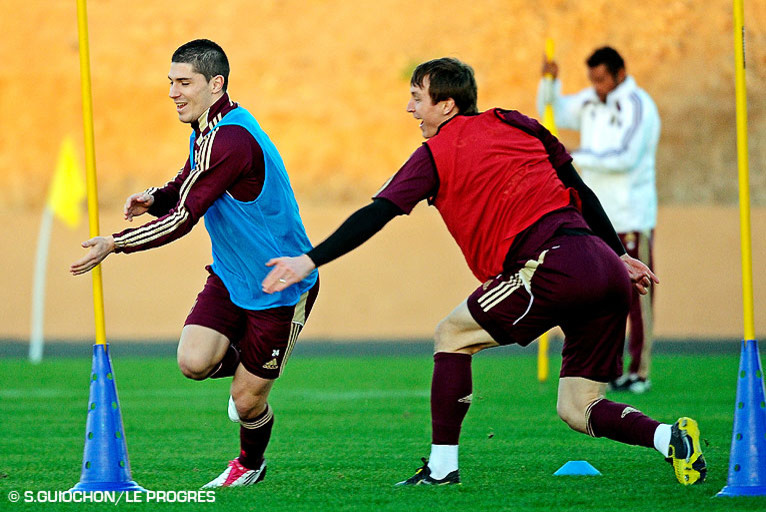 The young Jérémy has shown great promise during the first half of the season, all the while discovering the elite… Here is an interview you can see this Tuesday night in OLSystem…
It was unclear whether he would be up to par. On loan at Metz last season, he did not calculate and we can say he has taken his chance by returning to OL. Jérémy Pied
has changed worlds. He moved from the L2 to the L1, the Champions League and not just anywhere as he did it with the club of his youth. "I did not expect to play much, to be as often in the group. When I play I do not ask questions. I give everything even when it does not go too well..." Jeremy, he is very active on the pitch, giving a hand to his buddies. On the right or left flank? "It's different, but whatever. The important thing is to play first ...On the left, I turn in on my right foot. On the right, I can outflank and cross". And this ability of coming on well in matches? "Hopefully this is not a handicap (smiles). But when I'm called upon during the game, I can adapt whether it is to hold on to a result or go looking for one..."
An introverted guy, "I get along well with everyone, but I am reserved. Afterwards, there is no problem with anybody. When they come to me, I'm available, I discuss..." he enjoyed his performance in the Coupe de la Ligue against PSG and did not like his match in Lens, where he was in the starting line-up "I was pushed around, especially in my duels... and the coach took me off at halftime with Miralem without it being a sanction".
The most difficult tasks lie ahead: to confirm and progress
Jeremy may be considered one of the revelations of this first part of the season. It changed his contractual status at OL. "I will not deny that this is important, but the most difficult tasks lie ahead: to confirm and progress. There is no way I will be satisfied with what I have...." And no question of saying that his size is a handicap. "It serves you, you have a different register in the play...."


This training camp, he is enjoying it with peace of mind knowing that there will be the month of January for them to reach their peak. The winter break? "I could have continued without a break. After I took the opportunity to go see my family in Grenoble or for a few days at Disney...." The season is still long. "There is already this Coupe de France match against Caen. A Cup player? I do not know ... for now, I have not played many games in the cup..." We hope for him that this changes soon. And not to change his behavior so much he exudes kindness and the happiness of living off this trade as a footballer.