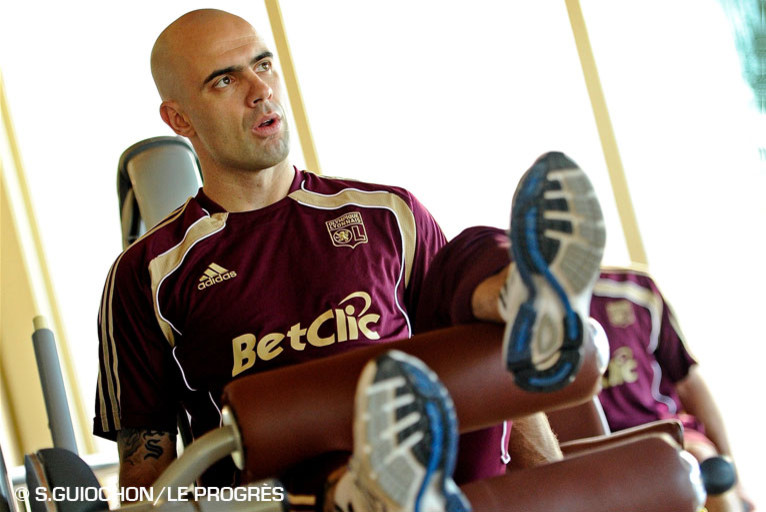 The OL captain has been through a first half of the season marked with a number of stops in the treatment room...But he is confident for the future...and for the results of the club. An interview you can find in OLSystem...
First discussions centred on the recent vacations. "I stayed in France. My family came from Brazil, there were 11 of us in the house. It was great, we had a good laugh. We went to Megeve, to Paris ... it was good...." There was talk of his two boys who, obviously, play football. "Vinicius, 12, plays for Palmeiras. He is number 6, but I think he will end up a centre back. He is really good. He started off all by himself and didn't let on that he was my son. The youngest, Igor, 10 years old, is a dribbler ...." There was talk of OL's old Brazilian players. "I have news from Juninho. He is vacationing in Brazil ... Cléber Anderson has no club ... Fabio Santos stopped his career ... As for Fred, I have heard nothing from him..."
This football, Cristianio did not see too much of it over the first 5 months of the season. "I feel that I have not begun. It's hard all these injuries. You imagine, I had to stop 3 times. This is the first time in my career. Each time I returned to my best level, I hurt myself again. I need to play a number of matches to be good. Of the 26 games played, I played 13...." Cris went on vacation injured. "I took the opportunity to treat me, to have a rest. Now, things are fine, but I'm not yet ready to play this Saturday against Caen. We decided to take time, to work well... I hope to return for Lorient.
So should we worry about the Policeman? "No. I'm still here. I've still a lot of desire...." Often injured but still there to talk about the recent past and future. "We talked a lot about OL. It has been difficult, but we have climbed the table. We can be champions of France. The team has progressed in recent weeks. Lisandro is back in great form. Lloris was present as usual. And Yoann, Jeremy and I are coming back ... It's the league where no team has made the difference. There's this new encounter with Real Madrid who will still be favourites. And do not forget the Coupe de France which begins this Saturday at Caen. I won the Brazilian Cup. With OL, I did not play the final against PSG in 2008. If we can...."
Cris optimistic, always joking and smiling, who is counting on the fans. "They must be behind us. We need them. I know they were disappointed early in the season, but they must help us, push us on. When I hear them cry my name, it motivates me even more...." The divine bald guy looks forward and concludes: "This training camp is also an opportunity to discuss things amongst ourselves, share. It's important ...." An exchange he will be able to have in a few hours with his roommate Michel Bastos who will arrive from Brazil. "It will be hard for him...." A little phrase spoken with a smile.