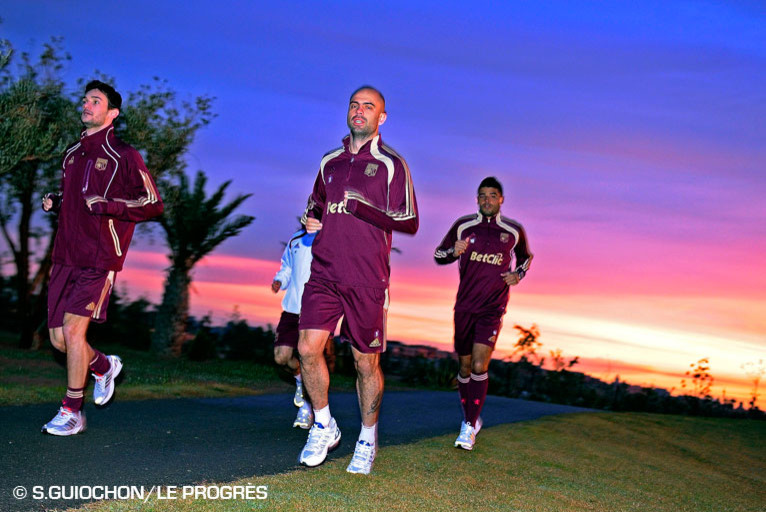 The day started with a run on the golf course...There is nothing better to open your appetite...
7h00. Night falls away from Marrakech. The day begins by taking his time. In the distance the Atlas mountains put height on the horizon. La Palmeraie asleep shivers while waiting for the first rays of sun. 7h00. The appointment time for the Lyon squad. On the menu for the fasting bodies, a 35-minute jog in several groups at different speeds. In the clear head of Cris, we can read his thoughts: I would have preferred to stay in bed.
At 7h15, the OL group makes its way to the golf course. It's really cold. Jo Bats follows on a bike. He is quickly in a mess with his ride floundering everywhere. The golf course offers its wonders under a sky that is clothed in blue and red. If golfers are still dreaming of exceptional shots, small hands are busy pampering their playground. The Lyon players must think that the second half of the season has started well. In the golf cart, it is distinctly cold. A chill that the driver and his white gloves do not feel! As for "Guioche" the famous photographer ... he finds a way of falling from the rear of the cart doing his job. Frankly, funny. After dinner with the chef Aldo and his handlebar mustache, he may have had trouble sleeping. And since he is not a morning person... This Aldo is an Italian, a supporter of AC Milan. He claims to have red and black blood in his veins while telling that he has a tattooed shoulder to the glory of his club after a win in the Champions League final.. "It's better than putting Claudia or Lola ... Women can pass by but not his club..." Everyone has different ideas.
7h40, back to the hotel. The day has finally risen. The players have woken up and are eager to go eat. The staff discussed this jog. We consult the sophisticated watches, which makes Jimmy Briand say: "They do everything, but they do not have the time...."
At 10h30, time for the gym and work on preventing joint and muscle injuries. Michel Bastos will arrive this afternoon.