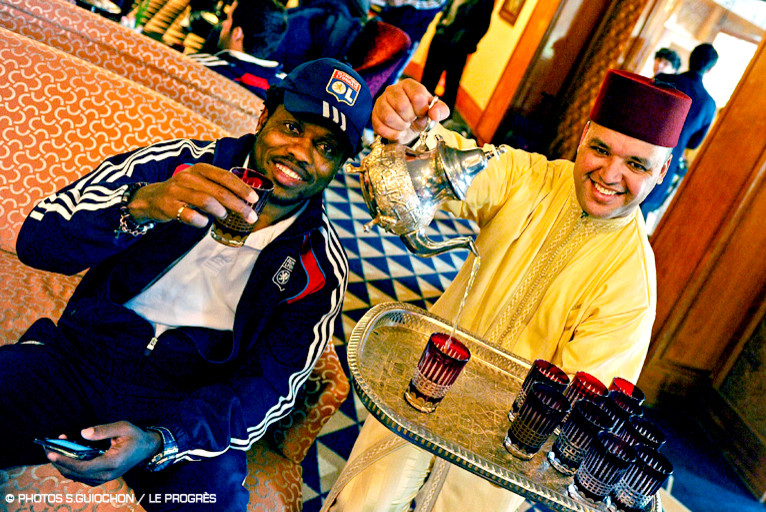 This Sunday morning, the OL squad headed off for Morocco...A return to training in order to face the second half of the season...
In just under three hours, the Olympians went from the winter of France to that of Morocco, nearly twenty degrees difference! If the jacket was de rigueur in Lyon, summer wear was not ridiculous in Marrakech. An uneventful flight over the Pyreness, Malaga, Granada, Tangier, Gibraltar, Rabat...before discovering the Atlas mountains and Marrakech. Direction the Palmeraie, home to the group just a few steps from the ground where OL will play Wednesday night. A brand-new stadium which they will be inaugurating. All seats have been sold, the stadium can hold 45,000. There is a great excitement throughout Morocco to see OL, but also PSG, WAC and Kawbab.
After the welcome tea, Cris and his teammates took possession of their rooms while meeting up with Clément Grenier, Maxime Gonalons and Sonny Anderson who were already there; Michel Bastos who was coming from Brazil had arrived late and would miss the return to work. A session at 17h00, beginning with several laps of the field, then individual work with the ball combining physically and technically work, before finishing with stretching. One hour of effort. Ederson and Cris have not touched the ball, while Toulalan and Gourcuff made it through without any worries.
A session under the gaze of Azziz Bouderbala, former OL player, notably, and a real star in Morocco. "I only played two seasons at OL, but this club has been important to me. I saw with pleasure Bernard Lacombe, Patrick Petrret ... My eldest son who was born in Lyon is a supporter of OL, so I'm aware of what is happening. Football in Morocco? It became professional this season. Hopefully it will find a good level. Wednesday will be a great party. Normally, OL should not have any problems with the Kawbab who have not been playing well recently..."
From Azziz's smile, coming from Casablanca where he lives, to that of Ederson. The Brazilian is indeed happy. "I am happy to be back with the group. I do not hurt anymore. I felt good and I am progressing. I spent 20 days in Brazil and I followed the program which had been established. I cannot wait to start playing with the ball again. I can see the end of the tunnel. Injuries are part of the life of a footballer. The birth of my first child also allowed me to keep going...."
OL have quietly got the ball rolling again. On Monday and Tuesday, there will be three sessions per day. On Wednesday, match day, the players will have a morning session. Thursday morning, rest and work in the afternoon. Finally, on Friday morning the last session will take place in Marrakech before the departure for Caen.
The OL group: Lloris, Vercoutre, Gorgelin – Gassama, Réveillère, Faure, Cris, Lovren, Diakhaté, Cissokho, Kolo, Toulalan, Källström, Gonalons, Pjanic, Makoun, Grenier, Gourcuff, Pied, Gomis, Lisandro, Delgado, Briand, Lacazette, Bastos, Ederson.