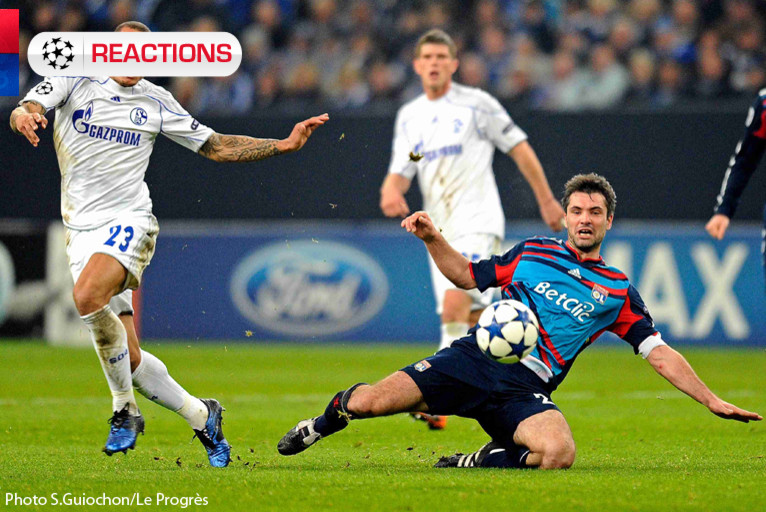 All the post-match reactions.
Jean-Michel Aulas
We just weren't in the match, especially in the first half. Afterwards, the third goal is anecdotal. We did not live up to our ambitions and the objectives of the group. There were too many shortcomings especially mentally. There will be an analysis after this match. Tel Aviv will really play the last match because Benfica are not guaranteed to finish third, so we can say that first place will be up for grabs at Gerland. That may be a blessing in disguise. This will help us see where we are. Yoann, I think it's not too serious, it's not a fracture. Dejan is also injured. There is a problem because players do not understand why some show desire, and others less. We lost many illusions tonight. This is something that will allow us to refocus on the game against Paris. But there is a serious analysis to do tonight.
Miré Pjanic
We weren't present tonight. We could have scored a goal that would have done us a lot of good, we did not. Tonight, there are a lot of regrets, even if we have qualified. We saw a team that did not dare, which did not fight. Now there is a match coming on Sunday, we will have to show much more. In the dressing room, there was anger, disappointment. We cannot let that sort of thing happen again. Personally, I felt good. We had to score, but didn't, unfortunately. I hope for the fans we will win the game Sunday.
Claude Puel
We messed up our match. We were not in the physical or mental condition to win this game. It is a tribute to this team Schalke. We failed to address and rectify the situation. It's disappointing to put in such a performance in the European Cup. After there are positives, we can still take first place. But this performance is unworthy of our potential. It was pretty vapid on some sides. We were lacking a spark in the second half. We never found any solutions, we were unable to get the ball down and under control. This is not a match to forget, because you have to rectify that, but we cannot settle for this kind of service. We must quickly find the problem, if we want to have a minimum of ambition this year. The way we start matches is unworthy of us, of our level. We must find the character, commitment. We will be talking this week and prepare well for Sunday's game. There are no excuses tonight, especially in the physical challenge of the first quarter of an hour. Schalke made us crack. Yoann is limping, he is a doubt for Paris.
Bafé Gomis
We started badly, it is our problem at the moment. Then we conceded two goals in quick succession and at this level it is unforgiving. We will try to erase this game. Tel Aviv won, this is the positive point of the evening. There will be a battle for first place during the final group stage match, as Tel Aviv have not given up. This is alarming, we are becoming aware, we will talk about it together. We must stay focused on the objective, which is to go as far as possible. They were well orgnised, so it was not easy. From my side, I created two or three chances, but I'm just like the team so I'm not happy. It is up to us to ask ourselves the right questions and answer them.
Hugo Lloris
There are two things tonight. The qualification, but we must be aware of the problems we have. In the league, we get away with it, but at the top level, it is not enough. We'll get back to work, and will have to change things on Sunday. Our first half performances are disappointing. When working, we want to have fun, and when we are 2-0 down at half time, it is not normal. We were not present in the duels. Most players are aware of the problems, but we need everyone to be. We'll have to discuss it, say what you have to say. We are conceding a lot of goals, but this is a team effort. We must think about the first place now, Schalke will have a complicated trip to Benfica. With the hope that they slip up, we have to put the work in at home. Tonight we are putting things into perspective, but we must all be at 200%.
Jérémy Pied
We failed to remember the mistakes of the past. Afterwards, why? The desire is there, so we'll have to improve because the opponents are not making us any gifts. The Germans sought out their luck by being aggressive. As far as we are concerned, if we had scored a goal, it could have changed everything. Tonight there will be no smiles from us, even if we have qualified. Now, we must look for first place. There was fatigue, but that's not why we lost.
Jérémy Toulalan
Lately, our starts to matches have been difficult. In the duels, we were not there tonight, I think we lost the game in the first half. It is all very irritating but tonight we can only blame ourselves. In the second half we came back with a better frame of mind, we had chances but it was not enough. The only positive point tonight is the victory of Tel Aviv. But, it's a bit sad to qualify like that. We will do everything to win this last game against Tel Aviv at home. But we are focused on Paris right now. Tonight, we messed up our match, so the dressing room was on edge.