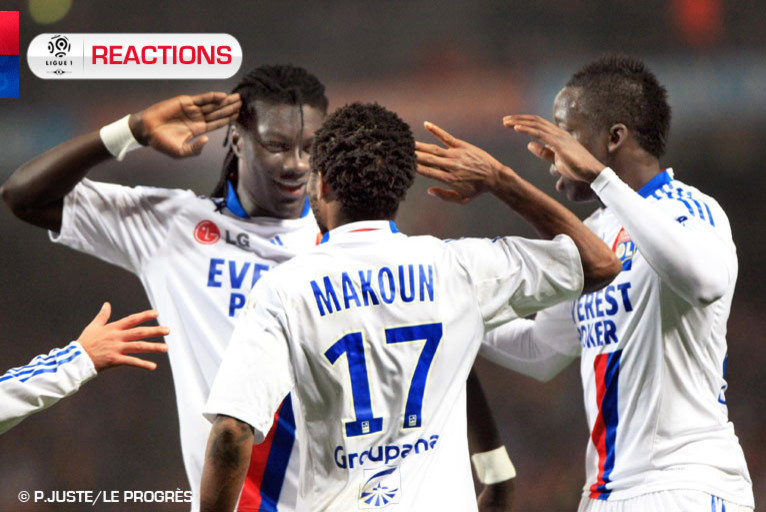 All the post match reactions...
Jimmy Briand
We put in a poor first half and we knew it. We said to ourselves at half time that we had to react. We had to get the ball on the ground because all we were doing was playing long balls to Bafé. We settled things down. Licha and Yo (Gourcuff) helped us conserve the ball. Now we have a big game ahead on Wednesday. It was important to start the week with a victory.
Jean II Makoun
We managed to turn things around in view of the first half. We were poor as far as our play and physical impact were concerned. We calmed down in the second half and managed to get the ball under control and thanks to a change in tactics we had less difficulty, we did not panic. I am very happy for Bafé and for the whole group. We must continue because we still have two big games coming up.
Jean-Michel Aulas
The first half was very complicated. It was even far below what you could want when you're in charge of Lyon. We suffered a great deal in the first period. There were then some changes. We have seen an improvement in technique but also in mindset. We have a very complicated programme this week. We must be very concentrated. It will take two halves like the second tonight to qualify in the Champions League and win against PSG.
Jérémy Toulalan
There were two things. Lens started the game well and we were not able to put one foot in front of the other. Roudet did us a lot of damage. In the second half we managed to change things. We were more aggressive and they may have dropped off a little physically. Matches like these are never easy. We did not start well enough but it ended well so that's a good thing before the game against Schalke.
Bafé Gomis
We were caught cold by a very good Lens team who made a bright start at home. In the second half we realized we had to show something else. We used the ball better we were realistic.
Claude Puel
It was a very bad start to the match. They put a lot of aggression and physical impact. When we had the ball we were very timid and passive. Lens did not create many chances but this first half was unworthy of our level. In the second half we put more quality in the game We reacted rather than acted and we must correct this. We have character and this game is going to do us a lot of good. If we want to stay at the top of the table we cannot afford to put in first half performances like we did tonight.