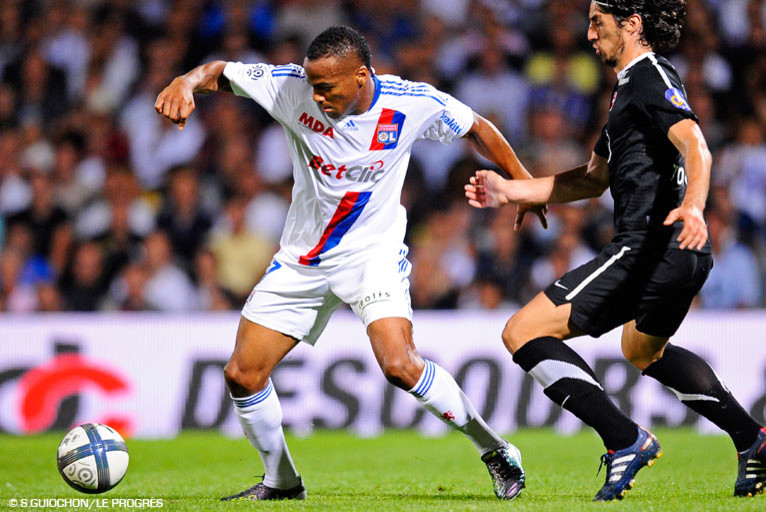 In September, just llike since the start of the season, Jimmy Briand has responded present...No integration problems for the former Rennes player who has finally scored...but who isn't interested in statistics...An interview to be found in OLSystem...
In terms of playing time, he ranks third in the squad for the month of September with 521 minutes played from a possible 540. He is in the same position taking into consideration all 10 matches, just behind Lloris and Toulalan. He has always been in the starting line-up. "I came to play, so I'm not surprised. After, we have a lot of guys who play up front...." The OL n° 7 never seems tired during a match. Has he always been like that? "Yes. I like running after a ball, making efforts both in terms of calls, running back. I give everything. I have the ability to recover well and duplicate efforts. However, I find it more difficult to do so with as much intensity if it is not in a game situation.... "

This tireless worker remains firmly part of the collective. "My month of September was a reflection of the team. We had average results in the league, while in the Champions League, we have answered the call. This is another competition. Difficult to compare, but we certainly could not allow ourselves to fall behind with only six matches in the group stage. Afterwards, we will do everything possible to follow on and climb up the table in the L1...." Finally scoring during the trip to Nancy, Jimmy does not feel relieved. "It is not a deliverance for me. The most important is that the team has won, that it wins. Me, I'm not really interested in statistics. There are other parameters taken into account when discussing the performance of a player. I have not really had many clear chances for goals...." Goalscorer or provider? "Whatever. But joy is not the same. It's much more intense when you score...." In fact, does he believe that he made the pass to Makoun for the Cameroonians goal against Brest? "Yes, regardless of the manner".
The former Rennes player has adapted remarkably. "I immediately felt at home in this group. I had known Yoann for a long time... Everything is going well. And I'm not difficult to live with. I'm always happy ... There are worse jobs than ours in life ... Outside of football in September, I moved with my family. I became a true citizen of Lyon...." This real Lyonnais was marked by an event in September. "I discovered the derby. People had talked to me about it. It's something else. Now I cannot wait to play the return leg ... to take our revenge".
Before playing against Saint-Etienne again, there will be many matches, but not the one against Lille in a few days. "It annoys me to be suspended, but the Champions League game against Benfica will arrive quickly afterwards. The cards? The first against Monaco, I complained because I was the victim of an attack. After the other two are defensive actions of an attacker...."
Stats from September
6 matches played
6 starts
521 minutes played from a possible 540.
2 goals (away to Nancy)
2 assists (VA and Nancy)
Provoked the penalty converted by Bastos in Tel-Aviv; was at the origin of Bastos's goal against Schalke 04.
6 fouls committed
18 fouls suffered
1 yellow card
15 shots on goal: 7 on and 8 off target. 6 goalscoring opportunities