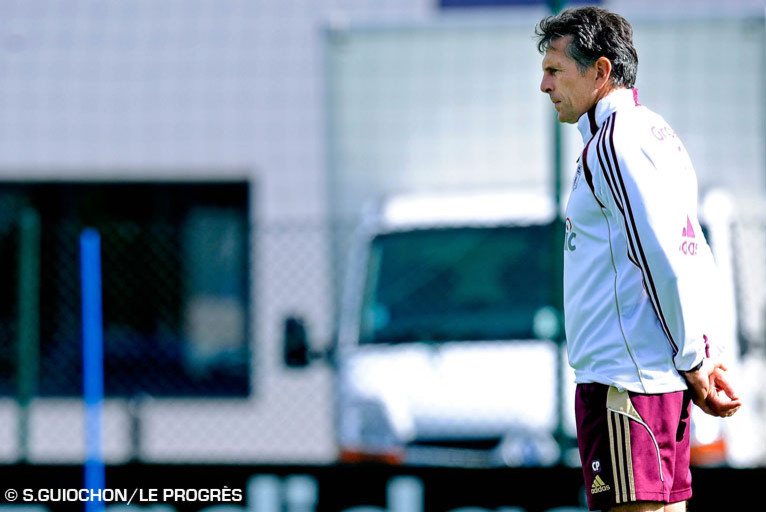 The manager analyses the month of September, also taking into consideration the match against Nancy...Here are excerpts that you can find in the interview on Thursday and Friday in OLSystem...
DESCRIPTIONS
"Every game has its story. Otherwise, frustrating (VA); not too bad (Schalke), rather tense (Bordeaux); full of drive, quality without the result, the best performance of the season (ASSE); change of scenery, refreshing (Hapoël) not easy to prepare, interesting sequences, character, but with weaknesses, recovering (Nancy). Disappointing in the league on a points level for different reasons. Quite satisfactory during the last three games in their performances and the last two in terms of results. The players have become actors again, something they were not early on in the season through lack of awareness and concentration. I feel the players have started the season, even if we still have to progress, especially at defensive set pieces..."
ARRIVALS and RETURNS
"Yoann Gourcuff is gaining in confidence and performance wise. He's a tough player. He needs to build up his habits for his confidence. We find him more and more in the game and he still has a good scope for improvement. Satisfied with his presence. Be patient with him. Pape Diakhaté? He is a very interesting player on and off the field. He is honest, he participates, he speaks well and has a good attitude. He is a warrior with great quality in his passing. It seems that he has been here forever. Alexander Dellal? Firstly Espié Vincent was not completely ignored, but he did not wish to continue with the PRO2. Alexandre is there to provide a little something more to the staff, players. He is a young trainer who is already well aware of his discipline. He is still looking to learn. He gets on well with the players. I'm expecting him to do individual work with the players as well and that he listen to the needs of the squad. Nicolas Quinault joined the group to go in this direction. Lisandro? The only way to get him back on his feet, was to make him play. Lisandro expresses himself best with the ball, not in training. He was not going to go through another preparation period. The wise choice was to do as we did".
SUPPORTERS

"First it is a group of supporters who reacted the way you know. It's always annoying for the group, the players. For me, personally, this is not a problem except that it can disrupt the team. I regret that, I regret this stigmatisation, even if the results are not up to expectations so far. We are slow to get going. We must no longer wander along our road. We have begun our climb, but it may not necessarily be linear. In a season there are always difficult moments.

OPTIMISM
"I believe in my group. The players are healthy, ambitious, have quality. It is a homogeneous group that can respond to all situations and it will. This group has not had time to create automatisms. It is through matches that they gain them, and advance".
PRESIDENTIAL COMMENTS
"He manages external events. It's never easy. He manages excess. Did his words change me? You cannot fundamentally change someone. I will not put a red nose! However, I do not fit the image given to me. A better communication? Surely. But I'm feel fine in my shoes. I am happy to be what I am, what I became. I'm more relaxed, calmer? It would be paradoxical or I've already changed my communication (smiles). I'm just in the action. I do not usually suffer or panic. Action prevents you from dwelling on things, having negative thoughts. I'm positive. I'm reasonable and look at the big picture. This situation in terms of results is jusst a phase".
STRONG IN ADVERSITY
"Maybe. This has always been a trademark, but I do not look for that kind of situation, I'd be masochistic! I just need it. It is in these moments where I am at my best. I knew that by coming to Lyon, at the moment I arrived, I was going to take hits. I came for the short term and long term. The challenge interested me".


MAKOUN

"I try to ignore the fans. He is like other players, an important element of the squad. John is not a cheater. He's a warrior and he is honest and has a good nature. You can, not like the player, I can accept that but not to this point. People think he came with me. Wrong. This is an attitude I cannot understand. It is incomprehensible how can you whistle one of your own players? This is not my definition of the word supporter".
LILLE SYNONYMOUS WITH FEAR
"It's part of the game. We will have to be super strong. I hope the public will respond present in their encouragement so that the team can face up to the challenge against Lille. These are always big games, special games. Special, as well after the international break and before Benfica. Like every game, we will have to win. Pressure? Pressure, it exists and must be positive. It is a motor to progress. Afterwards it depends on each human being. Some are annihilated, others stimulated. The reaction is also in the genes or in your professional experience. If you're afraid of not succeeding, it becomes restrictive".