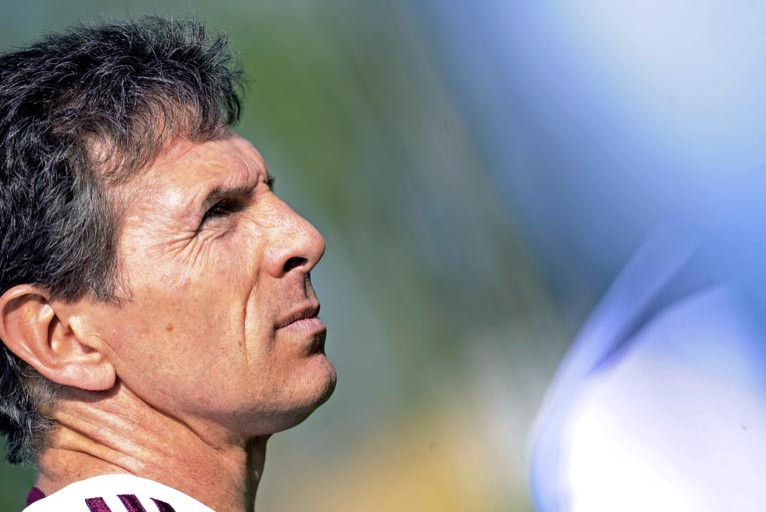 After training, Claude Puel spoke to the gathered journalists. He talked about the victory away to Tel Aviv, as well as the trip away to Nancy.
How are you approaching the prospect of playing on artificial turf?
It's always special, we experienced it already against Lorient. We should be able to adapt very quickly, and quickly plunge back into the championship. The sensations are not the same. Depending on whether the synthetic pitch is wet or not, changes everything. I'm, again, not sure that the boots with blades that the players have now will be useful on such a pitch. All teams have to face this though, it is up to us to adapt, and quickly.
Do you feel that yesterday's victory has done a lot of good to the group?
It is always good to win, to be rewarded. We would have liked to have been rewarded against Saint-Etienne. We now have another match to play, which will be difficult to prepare, which will not be easy. Nancy will want to win at home. In addition, an international break will follow, during which the squad will be spread out all over the world. This match is therefore very important.
Is the match against Nancy going to be the hardest match of the week?
Perhaps, yes. Because we are returning to another competition, the championship, the Champions League is always something special. Because of the recovery, because the opponent have had all week to prepare for this match, it will be very difficult.
Nancy have been unable or win or to score at home. What do you think?
Hopefully this will continue. There are always series, which continue or stop. But we aren't focusing on that. They will have Hadji back and will give us a tough time. We are expecting a good reception, something strong.
Between Saint-Etienne and Tel Aviv, have you experienced the most difficult week since your arrival at OL?
They have all been difficult (laughs). I am not important. It is difficult for the players, I would like to see them rewarded. It's very hard to lose a game like we played against Saint-Etienne. That's why it was important to win, to get back to winning ways.
Is that why you are not panicking?
I'm not used to panicking. I am above all obsessed by the desire to see my players play well, be as calm as possible to express their qualities. That is what interests me, I ignore everything that surrounds it. This is part of the vagaries of a season. There are always moments in a season where one team is worse. It is happening to us at the beginning, we have to get over this period together, refind our collective and a margin. The aim is to rebuild our team and our ambitions in order to swiftly move on.
Jérémy Toulalan was not called up by Laurent Blanc. What do you think?
I don't think we have many players called up, even if many of the squad could have been, and not just Jérémy. Jérémy has returned well recently. If Lyon return to the top of the table, a lot of the players will be called up to their national sides.
Do you think the fact that Laurent Blanc has retained Yoann Gourcuff is going to be beneficial to him, particularly in terms of confidence?
I think he is playing better, his team-mates as well. There are affinities to develop, match reflexes to acquire between players. Yoann often needs to touch the ball, to participate in the game. It's part of his characteristics. He is gradually growing in strength. Does he need confidence? He's a big boy, but it is always important to be called up.