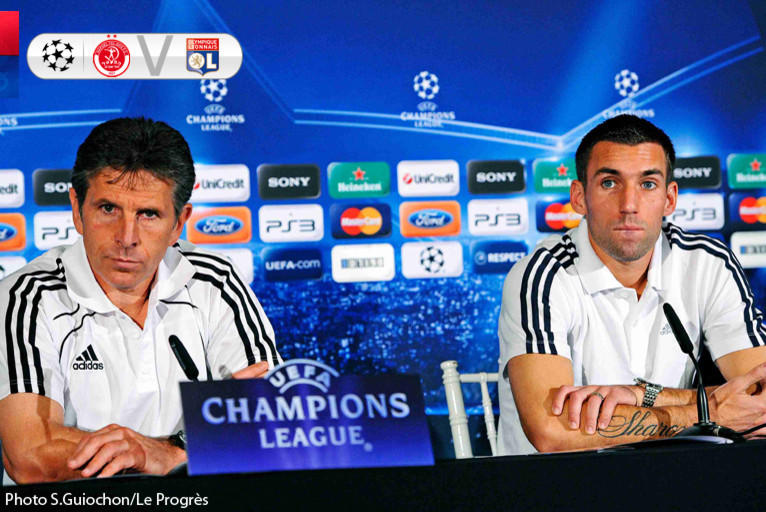 Anthony Réveillère and the OL coach replied to questions from the gathered journalists on the eve of their match against Hapoël Tel-Aviv.
Anthony Réveillère
"Hapoel are a highly technical, well-organized side. We will observe them tomorrow afternoon, during the video session, so as not to go into the match blind tomorrow night. But we know what we have to do to pick up three points here. We are experience in the Champions League. Certainly we are not in the best form right now, but we know that our performance in the match against Saint-Etienne was not rewarded. We'll have to repeat our performance from Saturday. The team is highly motivated anyway. We know that there are two important games before the international break. We must take three points here, before attacking the match against Nancy. With the break, there will be time to take stock. They are two different competitions. It is important to pick points outside and play every three days, to move on. These days, the president Aulas has been everywhere, he is with us and it feels good".
Claude Puel
"I watched the match against St Etienne again, where there were many positive things, in the gestures, in our intentions. I also think that in another context, we would have won this match. For tomorrow, we'll play with three forwards, with the same system we used before. Regarding the situation of both clubs we have the same configuration as against Schalke. Afterwards, a match in the Champions League is always special. You cannot compare the championship and this European competition. Do not forget that the Champions League is a mini championship. You have to build your qualification and take the points when possible. They have some technical players such as Vermouth or Shechter, and they have good tactical discipline as well. We will have to take our opponents into consideration and not neglect them. We will have to adapt to a heat that is unusual for us at this time of year. The atmosphere at the stadium also will be very hot, so nothing should be overlooked. As far as Jeremy Toulalan is concerned, he felt some pain, but will not miss the match. It is up to us to prepare for this match in a special context. A draw would not suit me, we will have to take all three points even if I do respect this side. As far as I am concerned, I'm fine. Thank you for caring about my health (smiles). "