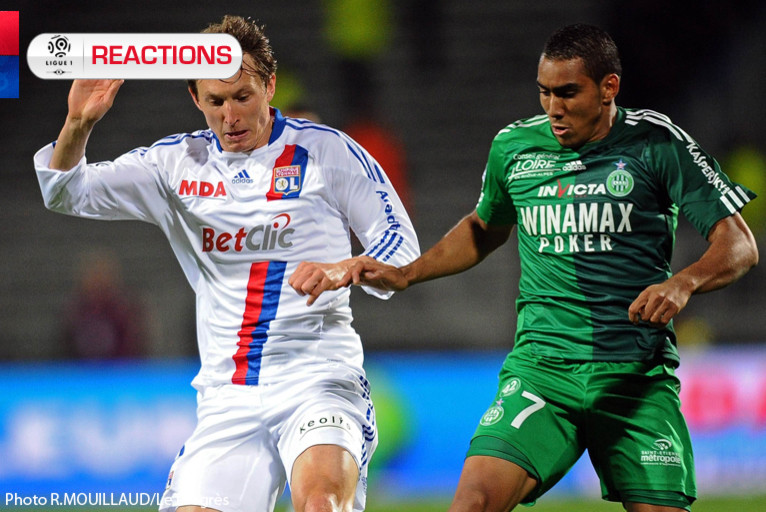 All the post-match reactions.
Kim Källström
We did not concede many chances, and on the contrary created a great many. We were present in the game, in our engagement. We cannot do much more besides scoring. After their goal is difficult to accept, it was not a free-kick, I got the ball, I made a tackle perfect. It's tough. We must rediscover our efficiency, but you know we hit the woodwork three times, they cleared two off the line, it's really hard on us.
Jérémy Janot
Of the twelve derbies I've played in, perhaps this one is the one I least deserved to win. At the end of the day success was on our side. Lyon played very well tonight, but, tonight is for all derbies that we lost. It feels good to win this match, the 100th to boot. Deep down I didn't think that would be able to win a derby. Every time there was a goal in the final minutes. This time it was our turn and it feels good. I don't think Lyon will stay for long in 18th position, considering the quality of their squad. On top of everything, they had no luck tonight.
Pape Diakhaté
We're very disappointed tonight, because we have shown some very good things. Lyon had not lost at the Stade Gerland to Saint-Etienne in years. It was the 100th derby, and it will go down in history, it is difficult. It hurts, especially since we put in a good performance. We pick up our heads now. The coach always brings us his selflessness. What he says to us always goes well because he puts good energy into it. Afterwards I understand the disappointment of our fans. Lyon are not at their place right now. There is no stronger squad in the division. And once again, tonight is the most accomplished game of our season. We must keep this in mind, our luck will turn. Now we urgently need points, and we will have to win.
Maxime Gonalons
It's really a big disappointment, we had almost put in the perfect match. We had many chances, unfortunately they finished on the post or the crossbar. Tonight we're all very unhappy with the outcome. In the locker room, we all looked into each other's eyes, to say we had a good game and we're unlucky. Losing a derby, especially for me who is from Lyon is very difficult. The president and the coach told us to stand tall. Afterwards our position in the league hurts tonight, 19th, I've never known anything like it in Lyon.
Sylvain Monsoreau
The victory is beautiful. We expected to suffer, and this was the case in the second half. Our passing game in the first half was good. It worked, less in the second half. We fell back, but it did not break and then there's this free-kick from Dimitri (Payet) which saved us. We are very happy. To be where we are today, it's great for us and the coach. It brings a bit of freshness to the group.
Laurent Battles
It's nice to take three points here against a very good Lyon team. We suffered during the match, but there was a lot of solidarity within the group. After I do not think Lyon will remain where they are in view of their strong squad. Everything is going well for me at Saint-Etienne, so I hope it will continue.
Dimitri Payet
We won and it's great for us tonight. In addition it goes a little way to wiping out the defeats we suffered in the past. It's been a long time. Tonight we are leaving with three points, it's flattering but hey, we won't spit on them. Personally I am happy with my start to the season. The France team, if they come calling I'd be very happy.