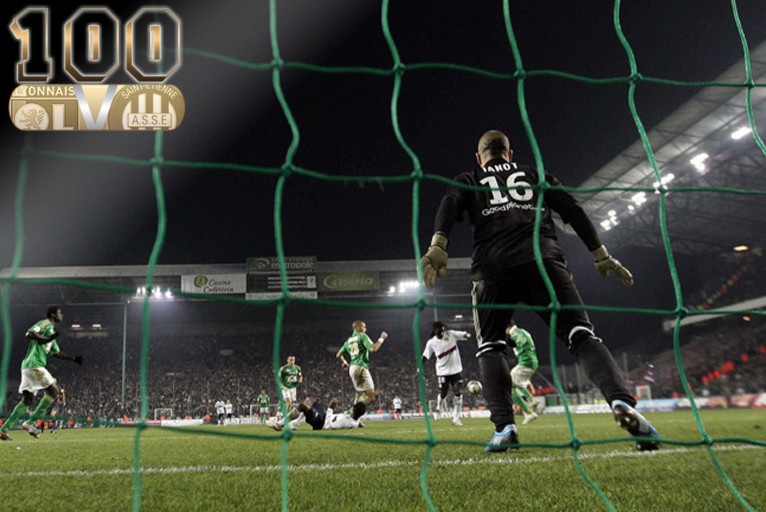 Just three days before the 100th derby between OL and Saint-Etienne, le Progrès from Saint-Etienne set the decor.
A little history lesson never hurt. Proof is, "le Progrès" uses the memory of the oldest, tracing the last 99 derbies. With, today, a focus on three games in particular. The most prolific first.
It dates back to the 22nd of September, 1963, with "nine goals and one crazy game ". "OL fell behind on two occasions (2-0, 3-2), then overtook Saint-Etienne (4-3), before Andre Guy offered the victory to Saint-Etienne with two goals (5-4).
The second act took place on the 22nd of January, 1978. In this game, "Saint-Etienne led1-0 through Rocheteau, before John Gallice scored a goal past Curkovic who immediately pulled the ball out of the net". The referee of the match, Mr. Konrath, did not award the goal.
Then on September 12, 1981, "OL landed at Geoffroy Guichard with Joël Frechet, 15 ½ years old, Jean-Pierre Destrumelle threw him on to mark Michel Platini". OL lost this match heavily 4-0.
Then, the local daily paper takes a look at the meaning of the word derby. With this explanation: "The word is inherited from a horse race between the neighborhoods of the city of Derby in England". Before specifying that "the label derby comes from history, is bestowed by social and cultural rivalry between two cities and built by an antipathy between two sets of people, sometimes in the same city".
Among the largest known derbies in the football world, "le Progrès" does not forget to include the "AS Roma - Lazio, Arsenal-Tottenham, Celtic-Glasgow Rangers or the very hot Flamengo-Fluminense of Rio in Brazil". All these exacerbated rivalries have built the history of football across continents.
Before recalling that in France, this derby is incomparable, and that men have marked its history, especially the goalkeepers of the two formations, who have made their names in the best possible sense. "le Progrès" remembers "Curkovic, Chauveau, Olmeta, Rousset, Janot, Coupet and others", sometimes great, but often decisive.