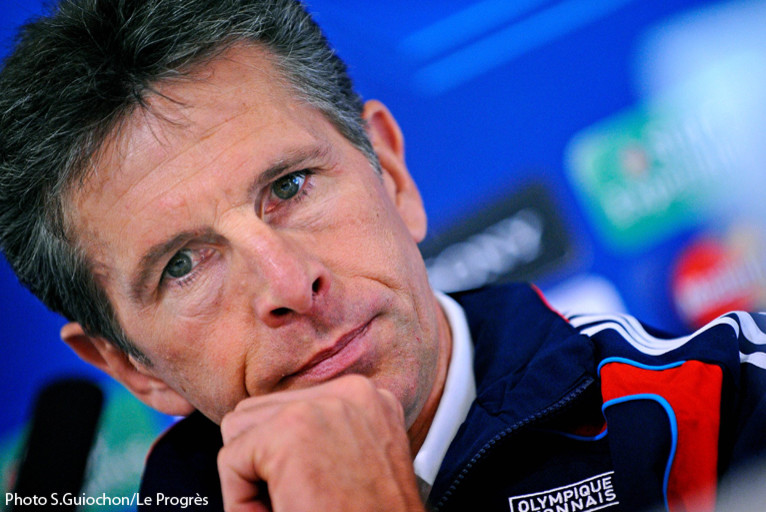 Jimmy Briand and Claude Puel answered questions from the press on the eve of the Champions League match against Schalke at Gerland.
Claude Puel
The last time that Lyon played against a German team was in the semi-final of the Champions League. Does that worry you?
There is no comparison. It's another season, another context, another level. The only approximation is that this team has rivaled Bayern for the title until the end. That shows their level.
OL are finding things tough at the time being in the league. Where do you find reasons to believe in the Champions League?
We know that the games are quite different. We were promised a lot of bad things before the match against Real last season while we did not play particularly well, we responded present. The Champions League is another competition for which the players find extraordinary physical and mental resources. Our last game was not too bad in the content even though it was not accompanied by the desired outcome. For me, it was encouraging with interesting bases to build on. We have an interesting squad with quality players. We need to make it a real group, find homogeneity on a physical level. We have potential, but need to show it. It's up to us to work, it will not happen overnight. Everything remains to be done.
Are OL the favourites for the group?
The status of favourites, it's something for the media or the opposing team to use as pressure. The group is homogeneous. These are teams that are certainly not as famous as Real or Barcelona, but it will be a very competitive group. The top two spots will not be easy to take.
In what state is Lisandro?
His preparation has been disrupted, he practically spent three months without playing. We circumvented this fitness programme by making him do a lot of games and "building " him up through matches. He is still a bit short of fitness. But I found his last game interesting. He still lacks a change of pace but it is there, he must still work to gain a much better fitness level. With Gourcuff, they are two players who love the ball, they can find each other with their eyes closed. We need to fine tune their affinities. As we play every two or three days, this will be done through games.
Schalke lost their first three games of the season. Are you expecting to face a wounded animal?
Two wounded animals will be up against one another, that's fine. Schalke have 17 or 18 new players, things don't fall into place with a magic wand. This is a team that will show very good things this season. Both clubs need to really start their season. It will be, in my opinion, a special and quite open match.
What do you think of the duo Raul - Huntelaar?
They look for each other systematically Lisandro and Yoann (Gourcuff). They are two real footballers, who speak the same football.
Jimmy Briand
You will be discovering the Champions League. What kind of game you expect?
It's a big game, a gala match. Any player wants to play this kind of match, me the first among them. The environment, the atmosphere makes the Champions League a competition apart. Although I have played international matches with the France team, I am looking forward to it.
Is the club in a crisis period?
No, this is a club that is still looking for automatisms and is finding them slowly but surely. New players have arrived, we were not all the same physical level. We are confident, we have done some good things at this start to the season, we need to add the results. Everything must be put in place for us to find serenity.
What do you think of Schalke 04?
We know all about German teams, they are solid sides that are also attack based. It will be up to us to impose our game and gain the victory.
Schalke 04 now have Raul, the best scorer in the history of the Champions League, in their ranks. What do you think of this player?
He is a great player, what has achieved is exceptional. We will have to keep an eye on him. The fact that I find myself facing him shows that I have also progressed.
Do you feel that the season starts tomorrow?
No, because we did have done some good things before. But this match could be a turning point for us, in any case we will do everything for that to be the case. This is the game we needed.
How would you assess your start to the season?
Like the team, I have done some good things and some not so good. When the team starts to peak, so will I.
Yesterday, Jean-Michel Aulas came to encourage you. What did he say?
He reiterated his confidence in us. He spoke to us simply and that did us the world of good.