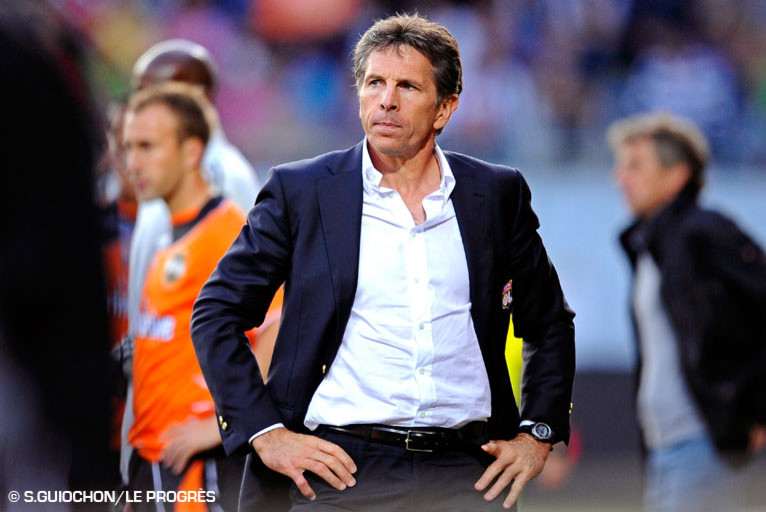 The manager looks at the record for August...Here are some excerpts of his findings which you will be able to see in OLSystem on Wednesday and Thursday...
HOW WOULD YOU QUALIFY IT? "Insufficient...fairly negative ... not quality present... physical problems... mental problems ... when we had opponents... Not ready for different reasons..."
FINDINGS? "We made huge mistakes…conceded soft goals... we lacked aggressiveness… conviction ... we were vulnerable to anything ... Overall very, very far from our level, individually and collectively ... We certainly had questions before the start of the competition, but have not returned psychologically... without the same implication...
CONCLUSIONS? "The four performances were not mature ... we did not confirm what was expected of us. Satisfactions? No ... even if there were some interesting phases of play... players who have done good things ... We have not yet started the championship ...we will have to do so against Valenciennes ... We haven't picked up where we left off at the end of last season ... We got lost en route ... "
CONCERNS? "No. We just need to be aware that it does not just take very good players, a good group for things to work out. We have to make efforts ... individually and for our team-mates... Pleasure must be a guide for everyone. But the pleasure, comes from winning matches, by dominating our opponents..."
PRE-SEASON PHYSICAL PREPARATION? "It is up to me to find solutions. Last season, we turned things around after the Christmas as far as the groin problems were concerned... Even if the muscle problems at the start to this season are not limited to the OL, you have to ask yourself questions and find solutions ... We have too many similar injuries... The coaching staff in general? I do not think they are less involved ... I did not feel that... on the contrary, there is a lot of desire, expectation..."
THE YOUNGSTERS? "It's difficult for young people ... We are at OL where there is a great deal of expectation... They should have the desire to gain playing time, to impose themselves, to show what they can do when they have the opportunity. I follow all the matches for the different age groups. We follow their progress ... A player never gives up ... In a professional football career, he must constantly fight ... there are always challenges to overcome... Nothing is owed to them... that does not exist. Tafer? He has the qualities required of a striker ...It's good that he went looking for playing time elsewhere and that he changed environment ... He must make the efforts... "
THE SUPPORTERS? "If the fans are unhappy ... it's the least of things. We have not played at our real level..."

SOLUTIONS? "We are getting to the real heart of the matter ... The Champions League is quickly approaching... Forget about any excuses ... A great team responds present....It overcomes, removes the difficulties ... We want to be a great team and we really do have the potential. We have a very healthy group. I am confident that the team will get better with the results ... We must find a soul and that is never a foregone conclusion.... Last season was very informative, we should build on it... Gourcuff? We will integrate him into a 4-3-3 ... 4-2-3-1 ... He will bring a lot to us in terms of technique... from set pieces ... he can put his foot on the ball ...he can become a leader ... But, he will not suddenly change everything ... He will not change the face of OL all by himself... It is the team who must raise their level of play…"
THE LEAGUE IN GENERAL? "For me, it hasn't really started yet..."