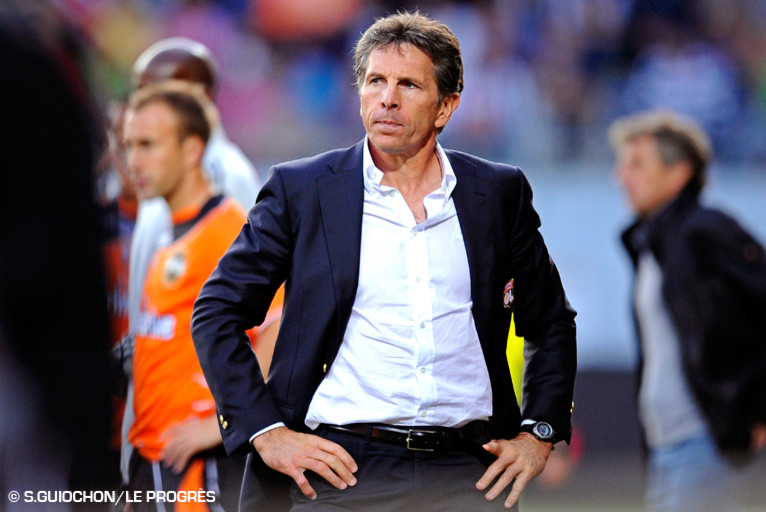 What do you think of proposals that were made by UEFA in relation to refereeing and in particular that of favouring a 5 man refereeing team?
Refereeing is an old debate. At five, it's already better because it leaves a little more opportunity for the central referee to make the right decision, to position himself differently and have another vision of the game. This system will be tested for two years, we'll see what will emerge. I, like many coaches, would like to see video used on some phases of play. That's another old debate. But everyone agrees to recognize that the refereeing that has existed for the last 100 years is over. These changes, are not a miracle, you can find fault with everything, even the video. But with the new technological means and the fact that the game goes faster a referee cannot do everything and is constantly questioned. Despite this, errors will always be there. If there were no errors, there would be no football and there would be no arguments in the cafes.
Have you advanced in your search for the causes of the many injuries that have affected the squad?
We're working on it every day, it is not easy. We're looking at everything that was done, everything has been noted. We will never find a single cause but we have to look at it all in order to eliminate everything that could be harmful. In any case, this does not seem to be overtraining. We must see if an exercise, a particular week, or a continuation of things may have eventually been harmful. We cannot be satisfied with having so many injuries, especially the same ones and at the start of the season.
Do you regret not being able to work with Cris and Diakhaté during this international break?
What bothers me is not having at hand all my players. It's annoying in looking for affinities, benchmarks, to get the group back on its feet. We must all work on that again, or we will have to do it through the games because there will few group sessions. It's also tricky when trying to integrate new players.
Were you tempted to recruit Laurent Bonnart?
We had the opportunity. He is a player who had some interesting features and the ability to play on the right and left. We hesitated and maintained our course of action vis-à-vis our young players, to show them that we have confidence in them. It is up to them to pay us back and continue to progress. I'm thinking particularly of Gassama and Kolodziejczak.
Is the recruitment of Diakhaté mean that your opinion on the positioning of Jeremy Toulalan has changed?
It is constantly changing. It happened in the last days of the transfer window, there was the record of the first four matches to consider. It is not consistent with what was expected, we didn't find our balance. In addition, other players, including Toulalan were destabilized, not by having changed positions but because they have recently experienced some pretty significant things. I think the expression of Toulalan in his new position was not helped by it all. I do not want us to be prisoners, especially since we had the opportunity to recruit Diakhaté, which gives us a greater balance in the squad.
Have you spoken with Jeremy Toulalan?
Yes. There were amalgams because he had changed positions. There are always interpretations, speculations. His performances, as well as those of the team were not of a good level. What he went through is not conducive to the best expression of his good qualities, it allow him to be serene. This is why the arrival of Diakhaté is important because it gives us other options. Then we'll see how all the players, including Toul' can regain confidence.
Will he soon return to his position in midfield?
It is a possibility, yes. It is something that is being thought about. I always said he had the qualities to play in two positions. He feels very good, either at the back or in the midfield. But, at the start of this season, it is easier to regain confidence in moving to a position that we know well and where we have a lot of habits, rather than a position where you need to work hard. Moreover, the environment is not conducive to serenity. If everything had gone well during the first few games, it would have made life easier, we would not have spoken of a possible return of Toulalan to the midfield. It is a succession of things; the national team coach's statements, the results which are not conclusive: he is not in the best conditions to express his talent.
Do you get the feeling he has totally turned the page on South African nightmare?
Yes, but it is brought up all the time. In fact, I don't think anyone has turned the page whether it be the media or the public. We need Toul', all of our players, we need everyone to re-focuse on our play, on their individual and collective expression. We are too far from our initial level. We must get back on the right track.
Are you fully satisfied with the OL's recruitment?
Yes, but we are still waiting to see what it brings us on the pitch. The players we've brought in are quality players, they should integrate well into the collective, but the truth is always on the pitch. The danger would be to hide behind the transfer window, behind Gourcuff, Diakhate and Briand and say that it will automatically be fine. Each player must be aware of what he has to bring and refind his competitive spirit. For now, we're still in the grind, in comfort, we expect our partners to make the little extra effort and carry the others. We need see our players in difficulty, to discover true competitors.