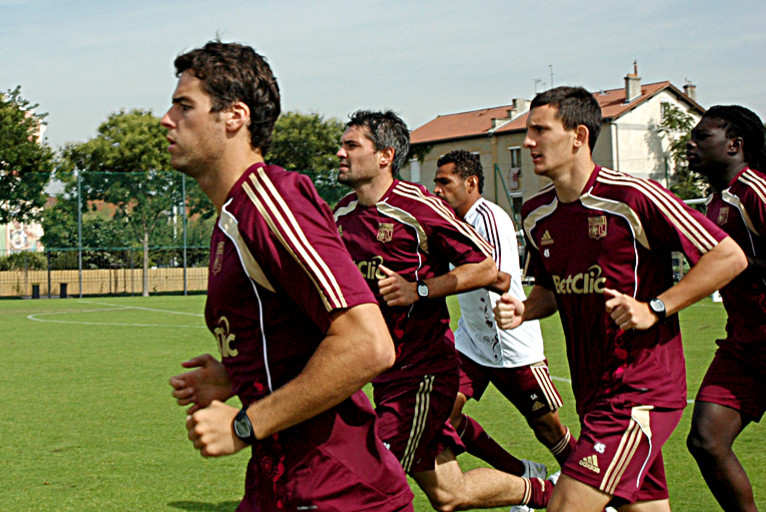 The OL players stayed at Tola Vologe for the morning session which was focused on physical work… They will retuirn this afternoon for other joys…
When the cat's away the mice will play! A proverb that was not really suited to the Lyon players present this Thursday morning at Tola Vologe. Without Claude Puel who was in Nyons (Switzerland) for the traditional meeting of coaches of the teams involved on the European front, Cris and his team-mates were indeed working hard, following the outing yesterday on mountain bikes. First upper body weight training, stretching and ab work indoors before the "tasting" the joys of the outdoors. Strange joy when you have to do 6 laps of the training centre in a specified time according to your abilities with just a little rest between each lap!


At this little game that marked the bodies and soaked their jerseys, Thimothée Kolo has no equivalent. He is alone in the world giving the impression that he can run for hours ... Behind the international pairing of Gourcuff/Toulalan... a pair suspended from the France team effort but not effort... a strong tandem, a little farther back Gorgelin, Gomis, Briand with help at the beginning from Sonny Anderson. The clock is in the hands of players, but also Patrick Collot and the fitness trainer Vincent Espié. Meanwhile, Bastos and Cris worked with Sylvain Rousseau. The two Brazilians showed on this occasion they had refound their form.
4 days and a morning after the game in Lorient, the Olympians have not yet touched the ball. They should be able to evacuate their frustrations this afternoon during the second session of the day.