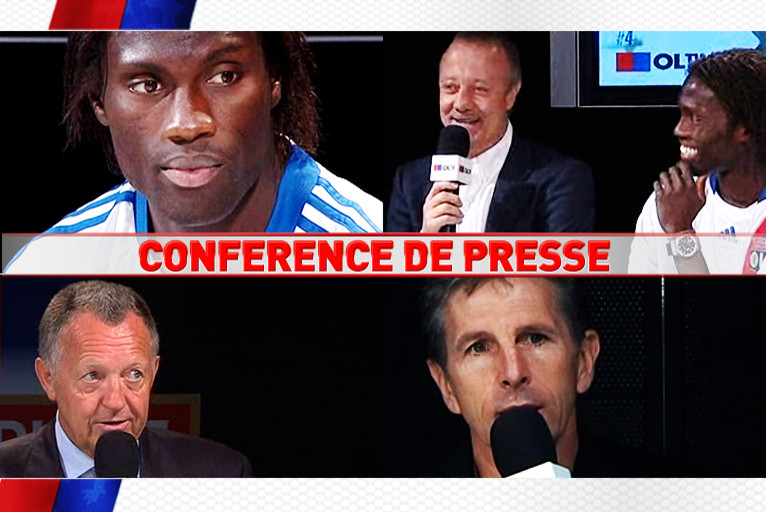 The media were given a rendez-vous this morning for the official announcement of the arrival, on loan, of the much travelled Senegalese player...Does this arrival mark the end of the transfer window?
The president Jean-Michel Aulas opened the press conference. "We just lost at Lorient. Since then, we worked very quickly internally in view of the injuries to make the right decisions in regards to our recruitment. You have to be agile the closer we get to the end of the transfer window, to find the element that you are missing after a start to the season which was less successful than you expected, but which has not affected our ambitions at all. It is at the end of the night that you pay the musicians. Our medium and long term certainties have been reinforced by the arrival of Pape who was in contact with several clubs. He was a targeted player. He arrives for a season long loan with an option to purchase fixed at 6 million euros. Is that the transfer window now over for OL? There are a few hours remaining before the by the close of the market. I think things are over, but I can't rule anything out. We will discuss in the afternoon with Claude Puel and Bernard Lacombe. There is still a hypothesis, but it must be consistent with our goals, our financial capabilities and what we have stated".
Bernard Lacombe: "It happened very quickly and efficiently. The first contact dates back to last Sunday. Pape is a defender I would not have liked to face when I was a player. He has a great mentality and is a leader ... I even made inquiries at St. Etienne. We will be able to count on him. His name had been linked to OL two or three years ago".
Claude Puel: "We had targeted some players to bring a real added value to the group. There were adjustments to make compared to the first games and opportunities. Pape is a very good deal. He is very good in duels, he plays well with his head and came play the ball out of defence. He is also charismatic with a good mentality. He has always left very good memories wherever he has played. His arrival will bring us more latitude, more options defensively. Our young players have potential but are lacking in maturity. We were light in the defensive section. I'm not going to say that Toulalan will return to midfield. With this arrival, I think the group is more balanced".
Pape Diakhaté: "I did not have to think too much when OL contacted me. I hope to be part of the club's history. I am a link in the chain that will be added to the existing squad and will be giving the best of myself. My time at Saint-Etienne did not put any extra pressure on me. As for my position, it is up to the coach to decide. I am ready to play anywhere".
The president Jean-Michel Aulas also spoke about the statements made by the national team coach Laurent Blanc about Toulalan. "I would have preferred that the coach chose his words more carefully. When I see a player upset, I'm unhappy. Afterwards, it is in OL's interests that Jeremy be in the France team. We won't forget what Laurent Blanc has said..."