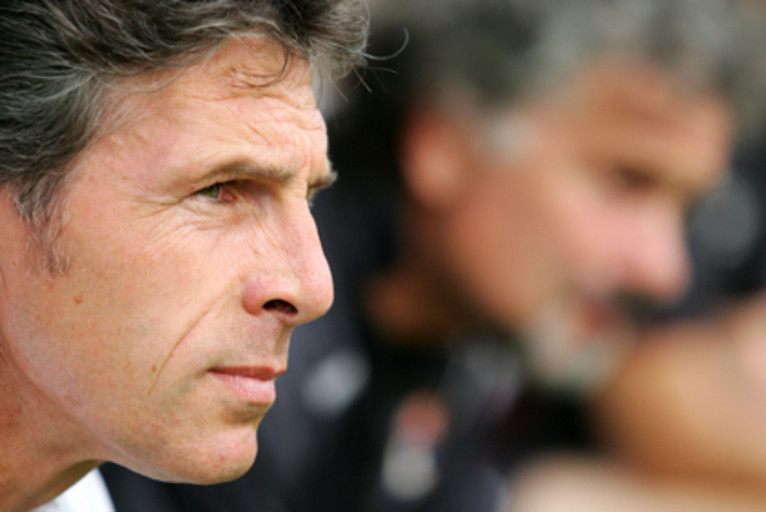 Two days before OL's trip to Lorient, Claude Puel spoke to the gathered press. He spoke a great deal about FC Lorient as well as Yoann Gourcuff.
How are you preparing for the match against Lorient on Saturday?
It's our fourth match, we know we really have to get going. We put in a good performance against Caen but conceded some stupid goals. We didn't play as well against Brest but managed to win despite the adversity. At Lorient, it will be a whole different match, against a side who will want to bounce back. On top of that it is on a synthetic pitch which is something we haven't experienced. It will be a tough match, especially as it comes in a week that saw the Champions League draw and the arrival of Yoann Gourcuff. We're in the last week of the transfer window, which is never easy to deal with. I hope that all these elements will not perturb the group. We have to stay focused. Lorient wil be prepared, with a Kevin Gameiro, who was just called up to the French squad, who will be very dangerous.
Does the synthetic pitch worry you?
It is something we have to take into consideration, just like when there is strong wind or a poor pitch. It will be a strange pitch, with the ball bouncing differently.
Will you put Yoann Gourcuff in the starting line-up on Saturday?
He is qualified and will be in the group. He hasn't trained this week, so I'll see how he feels. I haven't decided if he will start or come on during the game. He is enthusiastic. He had quite a busy week, he went through a lot of emotions and received an extraordinary welcome from the public. He is someone with values, who was attached to his former club and team-mates. Even if he has his head firmly on his shoulders, all of what went on has affected him. It's never easy.
Have you thought about how you will use him?
He can play in any system: 4 – 3 – 3, 4 – 4 – 2, 4 – 4 – 1 – 1. We'll see with matches, depending on form and balance. We often change systems, even during a match, to settle our control or give ourselves a more cutting edge. What interests me is what we wil be capable of as far as our animation is concerned and the players we can line up.
Is Timothée Kolodziejczak the designated back-up for Aly Cissokho?
« Kolo » was trained as a left back. He has the chance to show what he can do, it is up to him to confirm. But nothing is set in stone. Källström played very well at left back. And for the rest of the season we also have a World Cup quarter finalist (Bastos).
With the arrival of Yoann Gourcuff, have any players asked to leave OL?
No. nobody and we haven't received any propositions. We're in the status quo.
And what about arrivals?
You never know what can happen. Things can change right up until the last minute. The fact that some of our players are wanted can start a round of musical chairs. If that happened, someone would come in to join us. The group is well balanced but anything is possible.