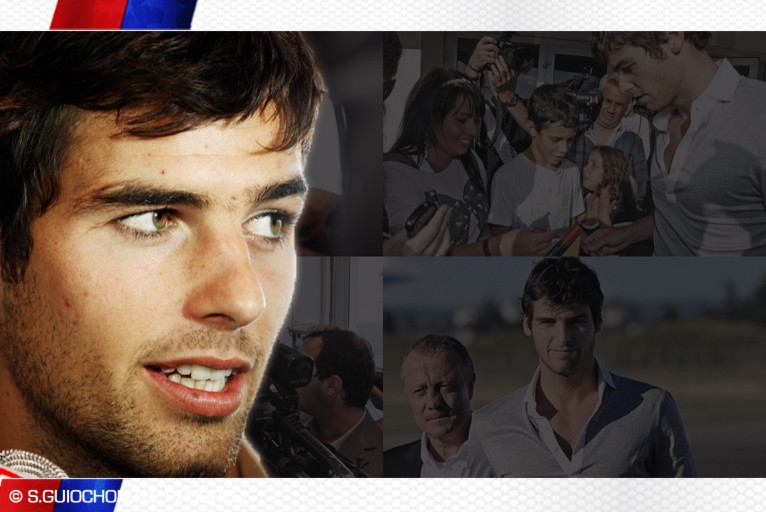 The Bordeaux playmaker signed a five year contract with Olympique Lyonnais on Wednesday...
Born on July 11, 1986 in Ploemeur Yoann is the son of Christian, a former professional player (Guingamp, Rouen, Lorient, Le Mans ...) and current coach of FC Lorient. He kicked his first ball with FC Lorient, where he remained until the age of 14 years. He followed his father to the Stade Rennais in 2001 and signed his first pro contract in 2003. In three seasons, he won his place in the starting line-up, playing 66 games in the L1 and scoring six goals, including one at the Stade Gerland in a 4-1 success in 2005-2006.
In 2006, he moved to Italy with AC Milan. He found it difficult to get playing time because of competition from Kaka, Seedorf, Pirlo ... He did, however, discover the Champions League (11 games and one goal).
In 2008 he was loaned, with an option to buy of 15M euros, to Bordeaux. The Champions Trophy, the championship, 12 goals and 10 assists in L1, 2 goals in the Champions League, a quite remarkable first season honored by the title of best player in L1. He also picked up his first international cap on August 20, 2008 against Sweden. This successful first season convinced the Bordeaux directors to make his transfer definitive.
His second season would be less successful mainly because of injuries. A season without a title, except the Champions Trophy against Guingamp, despite an excellent first half of the season in the league who suggested that Bordeaux would win a second title in a row. The Girondins would get out of the group stage in the Champions League, being eliminated in the last 16 by OL. Yoann became over the course of the games a starter for France as well. Often compared to Zidane, the playmaker was part of the squad for the World Cup in South Africa, where he was sent off in the third group match against South Africa.
He began the 2010-2011 season with Bordeaux, but before match three against PSG, rumours of a transfer to OL came back with great insistence. On the 23rd of August, we announced that an agreement had been reached between the two clubs. A transfer costing 22 million euros was formalized on Wednesday, Yoann signing a five year contract. He links up with his friends from the France team Lloris and Toulalan. He is also reunited with former Rennes players Réveillère (with whom he did not played), Briand, with whom he won the Coupe Gambardella and Källström.
CAREER
2003-2006: Rennes 66 matches in the L1 and 6 goals
2006-2008: AC Milan 36 matches in the Serie A and 2 goals; 11 matches in the Champions League and1 goal (AEK Athènes).
2008-2010: Bordeaux 66 matches in the L1 and 18 goals including 3 doubles (against Rennes, Lens and Nice); 14 matches in the Champions League and 4 goals (Rome, Cluj, Bayern, Olympiakos)
August 2010: Bordeaux 3 matches in the L1.
First match in the L1: February 7th 2004 Rennes 0 AJA 2.
22 caps and 1 goal (Romania)
First cap: August 20th 2008 Sweden 2 France 3.
MEDALS
Coupe Gambardella with Rennes in 2003
Champions League, World Club Championship, UEFA Super Cup in 2007 with AC Milan
Champion of France with Bordeaux in 2009
Champions Trophy with Bordeaux in 2008 and 2009
Coupe de la Ligue with Bordeaux in 2009
Player of the Year in the L1 in 2009