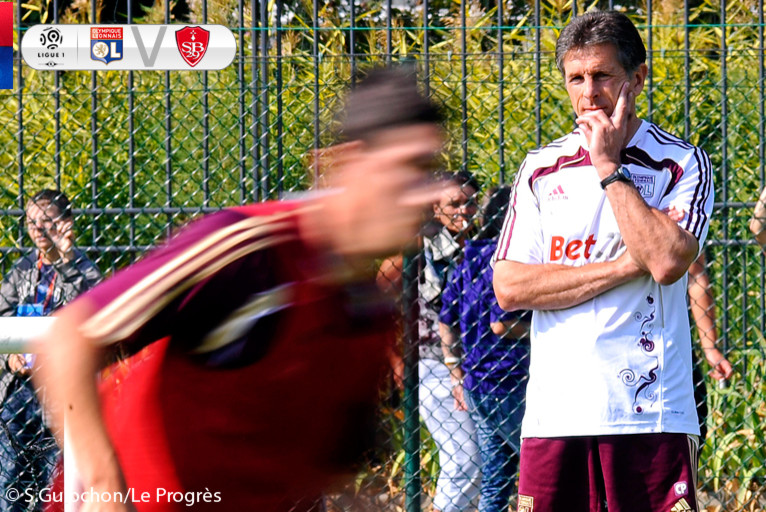 France...Brest...the transfer window...a look at the treatment room...all of this was on the menu at the OL manager's press conference...
Claude, can you tell us what the injury situation looks like?
"Lacazette has resumed running. Lisandro, I hope will do the same next week. Cris and Bastos are having treatment. Ederson has been operated on. That went well. Pjanic had felt a little fatigue, but is better now. During the period when these players are absent, we must close ranks. The majority of them will return in the month. These are challenges that are not unique to Lyon".
What state is Lisandro in precisely?
"The player will tell us when he can return. His sensations will be our guide. It is he who has the solution. The MRI scan showed a small mark on the tendon sheath. This worries me a bit, I did not think it would be so long. He has not played for three months. He really wants to get back to playing. He is having trouble accepting the situation and is not ion the best of spirits".
How does this match against Brest look?
"It will be a tough game during a period which is most conducive to speculation. Just like against Caen last week Brest have nothing to lose. They are ready. They can only take positives from the match at Gerland. They defend aggressively. We are forewarned. Afterwards, everything depends on us. We'll see what we can offer. Against Caen, there were good things in the game, but we conceded three schoolboy type goals, which has shown that we are not ready yet, even if we are focused on our subject. We will have to be more rigorous and stop spreading ourselves out too much. Against Brest a win is imperative, but it is all the time. Will Lovren play? I think so, yes. I have nothing to hide about that..."
Where are you as far as the transfer window is concerned?
"I do not particularly want to talk about it. We must remain concentrated on the game facing us. I want everyone to be focused on the match. Remy? OL have not made a counter proposition to Nice. "
How would you interpret the sanctions dished out to the French internationals?
"They are disproportionate. The players had already been punished by what they did in South Africa. Toulalan was really affected by all of this. This one match suspension is one match too many. Jérémy now has to move on. The chapter is closed".