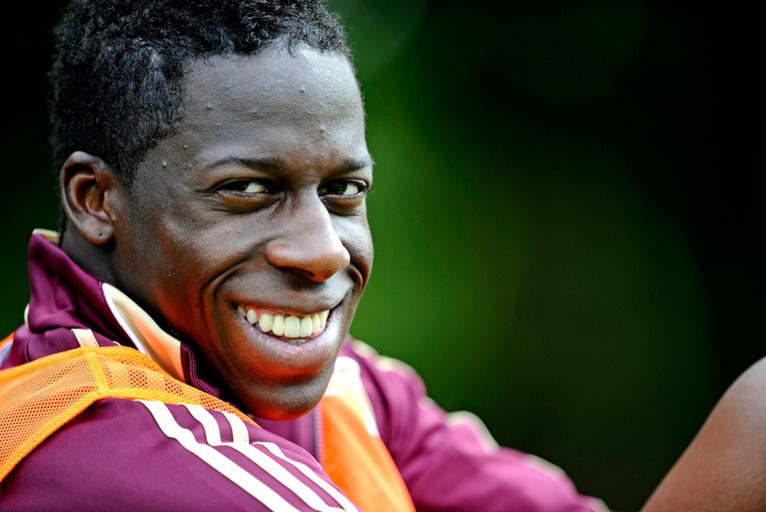 It was after having listened to Alexandre Castro, a Ligue 1 referee form the Rhône-Alpes region, explain to the OL squad the principal directives given to referee's for the 2010-2011 season, that Aly Cissokho arrived in the press room.
"Referee's are going to be a lot more vigilant during penalty kicks, making sure that we do not step into the box before the kick has been taken" he explained.
Another new rule, this time specific to the Lyon sqaud this time: Claude Puel has banned his players from wearing headphones in public. How was this decision taken by the group? "We don't have any choice" smiles Cissokho. The rule will come into effect as of Saturday against Monaco. "After a long month of preparation, we cannot wait for things to get started properly", he admits. This was a period which allowed him to put in a great deal of work in order to diminish the trouble he had with his groin muscles. It also allowed the Lyon squad to slightly modify their style of play in order to refind, what is the principal objective of the season, "the title": "we have a quality squad, with technically strong players. We are playing the ball around a lot better and find each other a lot more easily. The coach has focused on technique, on looking for the gaps and our deep passing. We now need to be a lot more realistic in front of goal, as we saw in London. We hope that things will work as of Saturday (against Monaco)."

Two days before this encounter, the national team coach, Laurent Blanc, will have revealed his list of players for the friendly match between Norway and France. "I hope to be selected, admits Cissokho. It's a strange match, but it will give certain players the chance to show what they are worth. To get into the France squad I need to gain in experience and be in good form with my club, I need to show my capabilities on a European level". And on a technical level, "play in more assists". For the encounter against Norway, the OL defender could be in competition with his counterpart from Bordeaux, Benoit Tremoulinas who Laurent Blanc coached at Bordeaux. It's a relationship that doesn't scare Cissokho: "Laurent Blanc was a player before taking up coaching. He knows how to manage things and to juggle between what he went through with Bordeaux, the relationship he has with certain players and his new role".