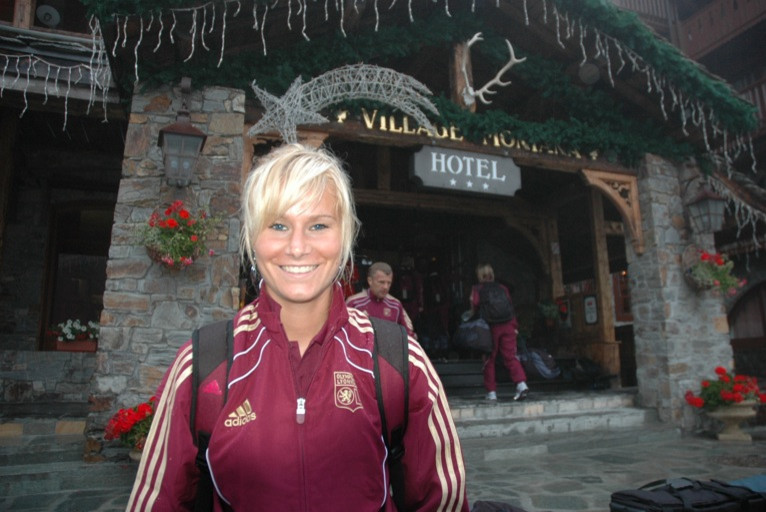 The OL women's team first training camp at Tignes started this Monday evening, with a group of 21 players.
Scene 1:
"You'd think we were in Twilight", Corine Franco started to imagine while looking out of the window of the bus. After a three hour journey slowed down by numerous accidents, Gégé the driver finally started the last climb up to Tignes, going into bends like a "Super G" skiier. The pine trees were not covered in snow, but surrounded by thick fog and intense, heavy rain. The scene was set.

Scene 2:
Amandine Henry (photo) and her team-mates put down their brand new bags at the Village Montana, which had already welcomed the France national team and the OL male side this summer. The personnel were all aware of what they had to do just like Doc Amprino who was starting his tenth stay at Tignes with the new coach, Patrice Lair. The Breton, who is completely satisfied with the conditions at the hotel, savoured the first meal of the training camp in the company of his staff. His assistant Fred Strappazzon was the target of a few jokes about the extra weight he had gained during the vacation, while Yannick the physio maintained his reputation by tucking into gnocchi and fish brochettes.

Scene 3:
Rendez-vous at 21h30, departure at 21h31, and no leeway for the youngsters who would be reprimanded for being two minutes late. You are not late with Patrice Lair. The group headed off for a short nocturnal walk around the peaceful lake at Tignes. Silence, action... The depth of the lake was hidden by the reflection of the mountains, which were lit up by projectors. All of this in an almost electric mist, which would almost certainly have inspired the director, and native of Lyon, Bertrand Tavernier. It is in this splendid setting that the dream of a trophy laden season will start, and the reality of an intense physical wake-up at 7h00 will really get this training camp started.