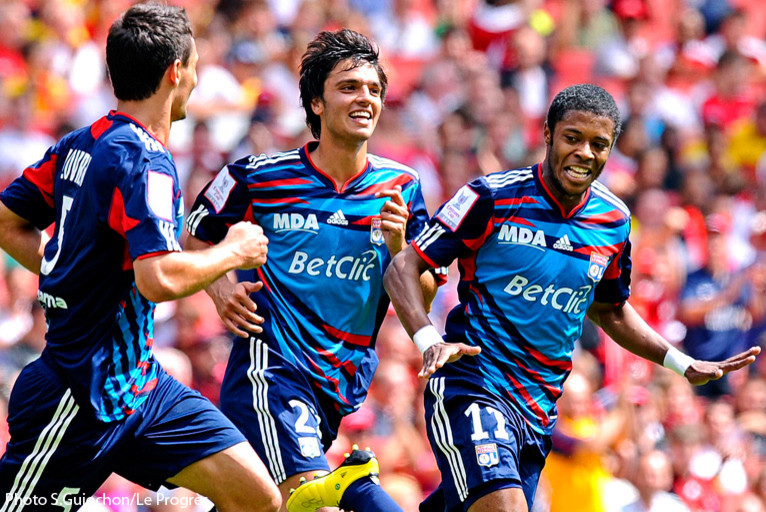 With a number of youth players in the staring line-up, the OL side put in a great performance over 75 minutes, before easing up towards the end of the encounter...
OL : Vercoutre, Réveillère, Seguin, Lovren, Umtiti, Makoun (Blanc 69'), Källström (Gonalons 85'), Grenier (Reale 58'), Novillo (Pied 69'), Bastos (Tafer 46'), Lacazette (Abenzoar 58').
Celtic : Zaluska, Brown (Juarez 51'), Fortune (Samaras 67'), Cha Du-Ri (Hinkel 54'), Misun, Ledley, Loovens, McGeady (Maloney 54'), Forrest, Twardzik (Mulgrew 67'), Hooper.
Goals: Bastos (28') and Novillo (53') for OL. Hooper (82') and Samaras (89') for Celtic
For this first match of the Emirates Cup, Claude Puel put out a side that could only be qualified as mixed. A number of youth players were out on the pitch, including the recently crowned European Champions Lacazette and Grenier, whilst other senior players like Makoun, Källström, Réveillère or Bastos completed the line-up. The return match on the Champions League qualifier obliged Neil Lennon to rest a few of Celtic's senior players.
Celtic were the first into action through Marc-Antoine Fortune who saw his diving header go just wide. The former Nancy player was in good form at the point of the Scottish attack. OL replied following a cross from Umtiti flicked on by Lacazette towards Novillo who saw his shot pushed away by Zaluska (13'). As the minutes ticked by, the Gônes started finding themselves better and better on the sun baked pitch at the Emirates Stadium. McGeady gave Rémy Vercoutre with an excellent volley, but the OL keeper reassured his team (20'). From a free-kick out on the right flank, Michel Bastos fired of a real missile of an effort which flew into the top corner of the Celtic goal (28'). A magnificent goal, which is a trademark of the Brazilian. Just afterwards, Novillo linked up with Lacazette before trying his chance from twenty metres out but was unable to get his shot on target (31'). A goal down, Celtic stepped up the pace with the South Korean full-back Cha Du-Ri multiplying his raids up the flank. Despite a few worrying moments in front of Rémy Vercoutre's goal, Claude Puel's men returned to the dressing room in the lead.
At half time, only Tafer came on, in place of Michel Bastos. OL continued to play well, following a cross from Réveillère, Harry Novillo curled in a shot which ended up hitting the top of the crossbar (50'). It was just a warning, as from a training ground move started off by Grenier with help from Lacazette, Novillo doubled the lead and was finally rewarded for his performance (53'). Claude Puel then replaced Grenier and Lacazette with Reale and Abenzoar. The Mexican Juarez tried his luck from long range on two occasions, hitting the Lyon post. Claude Puel's men slackened off the pace in the last 15 minutes and the Scots reduced the score line with a shot from point blank range by Hooper (82'). Straight from kick-off, Yannis Tafer messed up his aerial duel with Zaluska. In the final minute of the encounter, Samaras rocketed the ball home to scrape a draw.
Depsite this draw conceded in the final seconds, the OL performance was very good. Tomorrow against AC Milan we should see a new look OL side.
OL-AC Milan Sunday August 1st at 15h00!