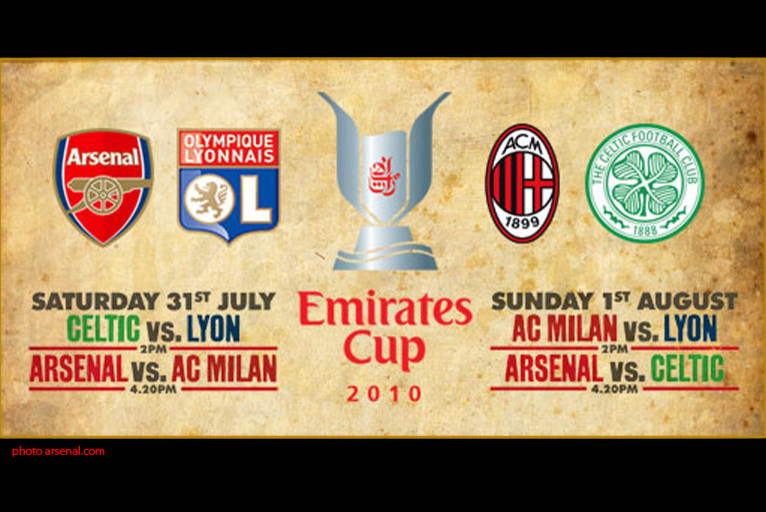 OL will participate, for the first time in their history, in this tournamaent which was created in 2007… it is the chance for them to measure up against quality European opponents…
In the space of 24 hours, the four teams participating in the fourth edition of the Emirates Cup will each play two encounters. Lyon face Celtic Glasgow on Saturday and AC Milan on Sunday. Arsenal will play AC Milan AC on Saturday and Celtic on Sunday. The is an smell of the future Champions League in the air, even if Celtic will have a tough time joining the three other teams, having lost the first leg of their 3rd preliminary round match 3-0 against Braga.
Arsenal have twice won the competition that they organise, losing only once in 6 encounters. This defeat came at the hands of Juventus (a goal from Trézéguet) giving the final victory to Hamburg.
OL are not stepping into the unknown for their first participation. They have already faced Celtic Glasgow and AC Milan in the past. The four matches will be played at the Emirate Stadium which was opened on the 22nd of July and which should be packed out for the tournament, a tournament which should allow the teams to gauge their form before the start of the official season. Arsenal face Liverpool on the 14th of August at Anfield, Celtic will travel to Inverness on the same day, hoping to have turned round the situation in the Champions League beforehand. The Italians of AC Milan will start their league campaign a little later.
If OL have still not won a European distinction, the three other clubs have already lifted continental trophies with, notably, 7 Champions League wins for AC Milan, one for Celtic in 1967 or the Cup Winners Cup in 94 and the Fairs Cup in 1970 for the Gunners. This competition will allow us to discover the new faces in the Arsenal squad, for example, Koscielny, Chamakh… or even Yepes with AC Milan who are now trained by Allegri.
In this competition where all four teams do not face each other, it is important to score goals in order to, eventually, make the difference. This should promise us quite a spectacle as the teams fine tune their preparation.