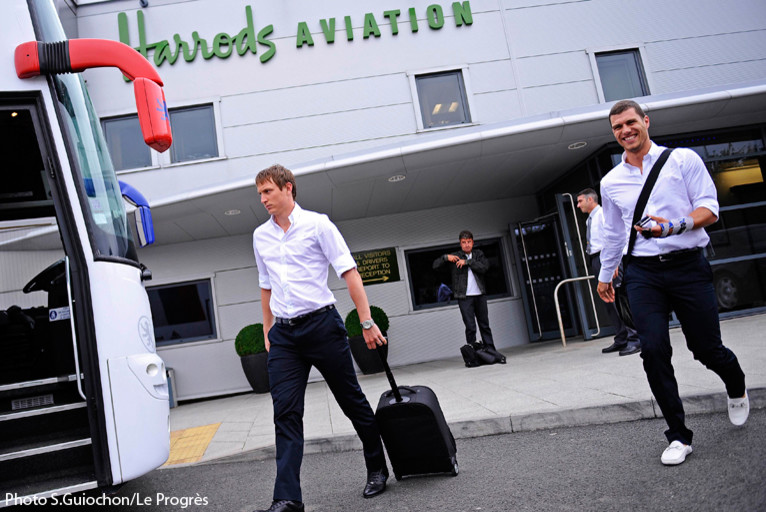 25 players arrived in England on Monday afternoon… They took up quarters near to Watford…
In barely the time it takes to play a game of football and you have changed countries. Taking off from Bron at 16h00 the Olympians landed 90 minutes later at Luton airport, one of the airports of London which has a traffic of over 9 000 000 passengers per year. They arrived on the tarmac reserved for private planes. A Rolls Royce stood waiting for its owner and the sky seemed to be melancholic with a humid tendency. Before travelling the 30 or so kilometers which separated them from their hotel in Watford, the OL delegation had to wait during passport verification, just the time for Robert and Gabriel, the two bus drivers, to talk about a recent accident they had with a motorcyclist who hit their bus.
Direction Watford whose football team now play in the D2 and had Elton John as their president. The motorway was blocked and undergoing works, there was also the famous driving on the left hand side which drives you crazy, without mentioning the poorly informed GPS!! The hotel? A haven of luxurious peace set in the middle of a golf course. It is a place frequently used by the England national team, as well as teams like Inter Milan… A once royal domain. Magnificent, and only a few kilometres from the mythical Wembley.
Just after arriving Cris and his team-mates headed out to stretch their legs in the vast domain where a football pitch will be at their disposition throughout their stay. The OL troops will have a double ration of training on Tuesday and will be reinforced by Makoun on Wednesday, the player being delayed due to administrative problems.
Before going to bed, everyone hit the town to get some food. The locals were out in force having a good time. It is quite surprising to see how little cloth is used here by the girls when dressing! It is quite disarming.