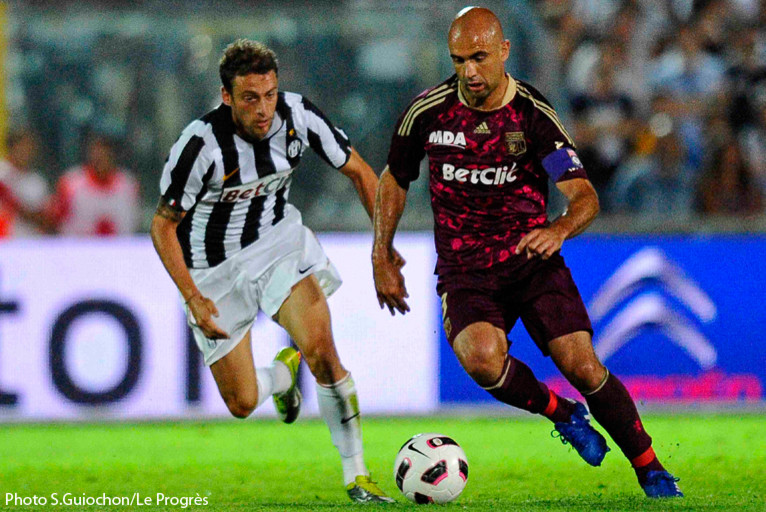 In numerical inferiority over two thirds of the match, OL lost (2-1) against Juventus at the Stadio San Vito de Cosenza.
This encounter against Juventus did not really seem like a friendly match, but more like a European cup game. The 25 000 tickets at the Stadio San Vito completely sold out.
At the kick-off Claude Puel had put out the following side: Vercoutre, Gassama, Cris, Lovren, Cissokho, Gonalons, Källström, Ederson, Abenzoar, Pied, Belfodil. Pushed on by their public the Black and Whites tried to pour pressure onto the OL team. The central of defensive pairing Lovren-Cris were not overawed by the duo Del Piero-Amauri. Even if this was only a pre-season friendly game the engagement was impressive, sometimes at the limit of legality. Del Piero dropped like a stone in the penalty area but the referee was not fooled. One minute later Belfodil was hauled back by Chiellini and this time the penalty was whistled. Ederson fired the ball home and celebrated by tucking it under his jersey. Just a few minutes later, Cissokho was sent off after responding to the provocation of Martinez (26'). OL would finish off the match with only ten men. Behind, the Italians would equalize through a penalty generously awarded to Amauri who hit the ground following a contact with Lovren. The inevitable Alessandro Del Piero took care of the spot kick. After a final effort from Jérémy Pied, Mr. Carmine Russo brought the first half to a close.
Upon the return from the dressing room, Pjanic, Briand and Gomis made their entries. Maxime Gonalons, as precious as always in the midfield, tried his turn with a long range effort with his left foot but was blocked at the last moment. As was expected, Claude Puel made a number of changes. The OL keeper showed what he could do punching away an Italian header from close range (58'). Even a man down OL continued to to hold Juventus, however just fifteen minutes from the final whistle Del Neri's players took the lead. Diego played in a looping pass to Pépé who luckily fired past Rémy Vercoutre. Storari pushed away a good free-kick from Kim Källström which seemed to be on target. This was one of the rare good chances of the second half. The match ended with the score at 2-1 to the delight of the spectators at Cosenza. Despite their defeat, OL managed to put in a good performance and continue to gain in strength.