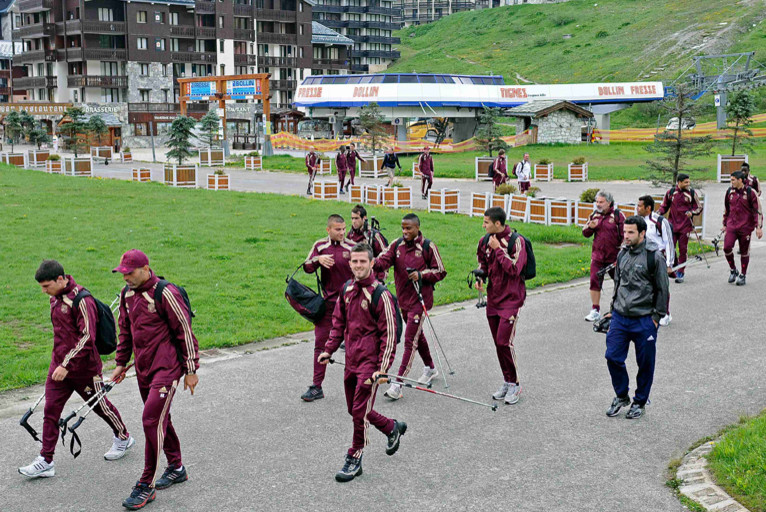 The OL training camp will come to a close on Wednesday with their friendly match against FC Servette...A training camp synonymous with some fantastic moments.
10 days in the Savoyard resort with generally nice weather despite a little rain and low temperatures, sometimes towards the end of the evening. At least the nights are enjoyable. 10 days during which the resort has done its utmost to make the OL squads life as comfortable as possible, whether it be the players or the supporting staff.
We particularly appreciated the welcome from the people of the resort. All days were open just like those at the Lagon sports complex where it was possible to lift weights whilst enjoying conversation with the staff, a top notch establishment where it was delightful to meet up and look at the lake through the immense bay windows.
We appreciated the accommodation at Almes 1. Great comfort at the foot of the ski slopes with a panoramic view! We appreciated the restaurant at the Hotel Aigle and the permanent service of Luc and Mounia; Luc, a Parisian surrounded by convivial Italians. The cook is a football fan, supporter of Sampdoria. He remembers Pierre Laigle and hopes that his team will get through the preliminary round of the Champions League against Tottenham… It is funny although not easy to mix French and Italian in the same conversation! Except for a jersey and a scarf...
We appreciated putting in efforts in the fresh air around the lake, with the many sports orientated installations. We appreciated this life at altitude where breath becomes rare as soon as you move and where you can see, and sometimes touch, the wild animals. Big cuddly toys to caress.
We appreciated, as always, staying around the Hotel Montana to work, or to talk without any fixed objectives. The terrace there is always sunny, the bar always warm and the salons always comfortable. This is a place filled with memories of the French national team and OL who have made it a habit of coming here since 1999 for pre-season.
We appreciated returning to the apartment to taste the recipes of GG the "Gachette" or to talk with "Vive", who is now nicknamed "lastseconde.com".
We appreciated seeing the players and staff, hard at work, available and always smiling.
The season has gotten off to a good start, with us hoping that it will measure up to this training camp and that it will reserve some happy moments capped off with new titles after two years in the wilderness.