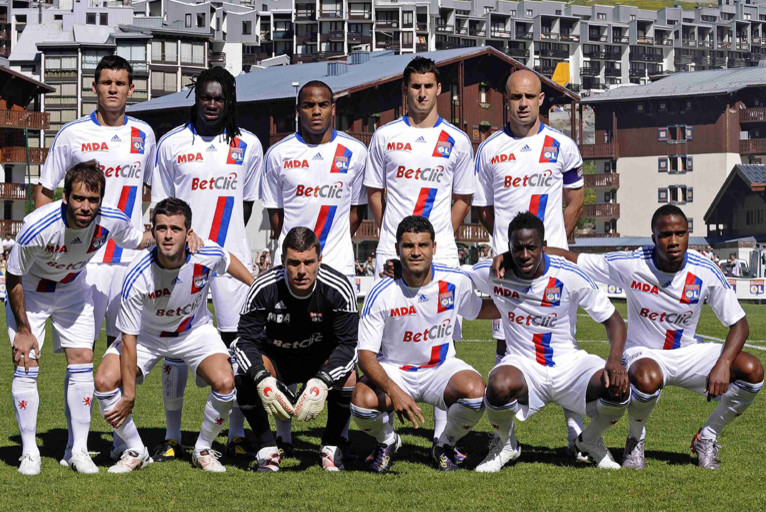 As a curtain call for their training camp in Tignes, OL defeated Servette Geneva 3 goals to 1. The goals were scored by Ederson (2) and Gomis.
For the first of their pre-season friendlies, OL were up against Servette Geneva, a Swiss second division outfit, at the Eric Canona stadium in Tignes. After eight days of intensive preparation, Claude Puel's aim was to give a maximum number of player's time out on the pitch. The Olympians were swiftly dangerous with a curling free-kick from Miralem Pjanic which went just wide of the post. Having already played three friendly matches the Swiss side seemed fitter and forced Rémy Vercoutre into making some great saves. After a number of delicate situations, Claude Puel's men opened the scoring thanks to a clever lob from Ederson (21'). Just afterwards, Briand broke down the right, tearing the Swiss side apart with his cross finding Ederson who scored his second of the encounter (25'). Following two goals ruled out for offside, Bafé Gomis was rewarded with a magnificent effort after eliminating two defenders in the box (39'). After an impeccable first half performance, Rémy Vercoutre, was called into action one final time before the break and was able to push the ball over.
In the second half, only Lovren, Abenzoar and Ederson retained their places on the pitch. The OL youngsters like Mathieu Gorgelin and Samuel Umtiti were thrown into the fray. Lyon managed to create a number of interesting situations, but didn't really worry the Swiss keeper. Steven Roux made a first appearance, coming on for Ederson. The OL defence was then taken by surprise by a long thrown in to the back post where Karanovic was waiting to fire the ball home with a fantastic bicycle kick. As was expected, Dejan Lovren and his team-mates could not keep up the same rhythm on the second half. Apart from a chance for Ishak Belfodil, not a great deal happened in the second half. After the final whistle, the OL squad stayed out on the pitch for a warm down and stretching session, before their return to Lyon.
Claude Puel (speaking to Canal+)
On the whole I think it was good to finish off the training camp with this match. We controlled things better and we showed more maturity in the first half with some good passing and goals to top everything off. In the second half there was a lot of desire but less control, fatigue also started to set in. We brought in a lot of young players and they need to learn. We had seven players at the World Cup and six at the under 19's world championship. The season is going to be long and we need to prepare as best we can.
STATISTICS AND INFORMATION
Tignes, Stade Eric Cantona
1 200 spectators. Referee: M. Malige 
Goals: Ederson (21' & 25'), Gomis (39') for OL. Karanovic (70') for Geneva.
OL (1st half): Vercoutre, Abenzoar, Cris, Lovren, Cissokho, Gonalons, Pjanic, Ederson, Delgado, Gomis, Briand.
OL (2nd half): Gorgelin, Seguin, Anderson, Boumsong, Umtiti, Källström, Lovren (Mehama 74'), Ederson (Roux 65'), Abenzoar, Pied, Belfodil.
Geneva: Gonzales, Schneider, Mendes, Maric, Rüfli, Routis, Pizzinat, Schlauri, Doudin, Nater, Karanovic.