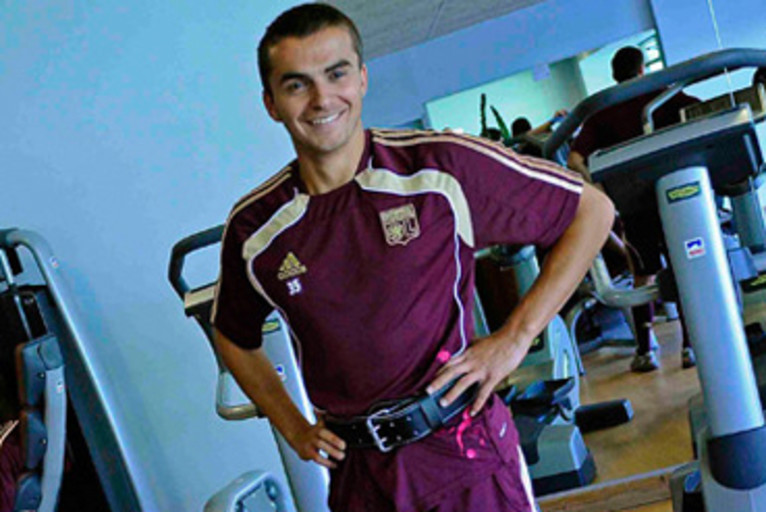 He is part of the new group of OL youngsters. He has just signed his first pro contract...He has shown his strong temperament throughout the training camp...
This kid never gives up. With a football or in any other sport, he loves to fight hard. He gives all he has. "When I was younger I never thought I would play football as a professional. I played a lot of other sports like rugby, tennis, basketball. And then …" He has now been wearing the OL jersey for 9 seasons. He has also worn the French jersey in each age category. He has become a central defender. "I play in the centre of defence but I can also help out at right back …" When asked to list his strengths and weaknesses, he replies: "I love duels and never give up. On the other hand I have to work on my left foot …" He also believes that his size could be a handicap.
Born in Lyon, on the 6th of March 1990, he has just signed his first pro contract for a duration of 3 seasons. He has already appeared on the OL team sheet on a number of occasions over the 2009-2010 season without having had the chance to make his big debut. "I hope that will happen with OL. Afterwards, in order to gain playing time, I could go out on loan". In the meantime, he is heading into this pre-season preparation period with a strong mentality. He has shown on many occasions his enormous physical potential by frequently being in front during the different events. He won the run and bike with Ederson. He came over the finishing line in first place in the climb of the Iseran pulverizing the club record in the process. He also has a very strong team spirit.
If we told you that his favourite player is Puyol, the FC Barcelona and Spain central defender, you would not be too surprised. To look a little more like the long haired Catalan warrior, all Nico hes to do is let his hair grow...