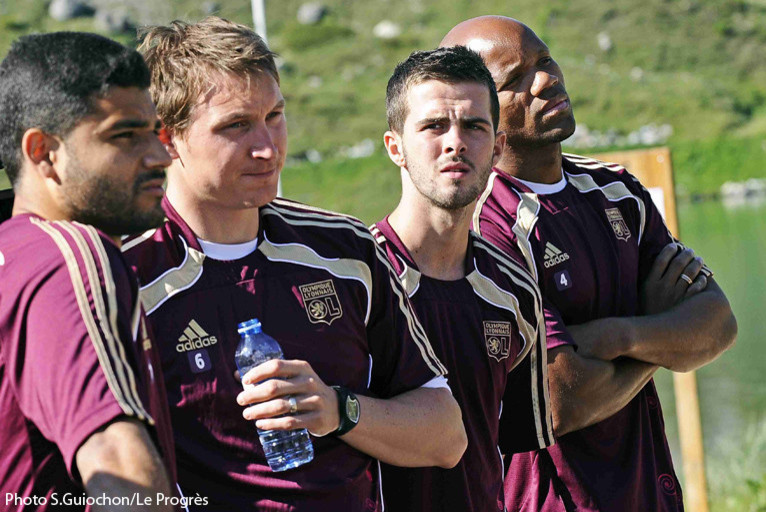 It is always a pleasure to talk with the Swedish midfielder whose words are always filled with lucidity, intelligence and thought...Excerpts from an interview that can be found in OLSystem...
This return to work has given him numerous blisters on his feet, even though he came back after the majority of the squad. "The coach gave me a few extra days as I had played for Sweden against Bosnia and Miré. The rest did me good. I took full advantage of my family. My daughter? Ah, it is difficult to explain, when you become a father, when you hold your child for the first time. It didn't change me … I didn't go all funny … I have always been calm …"
Kim, has a reassuring personality, something which has been regularly present over the seasons. Since he arrived in France, he has played more than 30 league matches per season. "I think it is down to the fact that I am consistent. The coach knows that he can count on me. I'm never really, really great; I'm never really bad. I rarely mess up my performances.." Kim is also rarely injured. "I watch what I'm doing …". Lucid, he knows himself, he knows his strengths and weaknesses. "I'm not fast. I don't have the technique of a Ben Arfa to win matches all by myself …"
This solidity and regularity has allowed him to play 3 333 minutes in the 2009-2010 season from 5 040 as well as scoring 5 goals. Why does he score fewer goals than he did at Rennes? "I had a more offensive role there, I took the penalties as well …" When will we see his first goal from a free-kick with OL? "Yeah it's true I haven't scored like that yet, except in a friendly match last season …"  The Swede is also happy at not being moved around from post to post, as happened in the past. "At times I played in 2 or 3 different positions during the match … You get lost … you have no references anymore. I think that the fact I had my best season for OL last season is down to me playing almost always in my natural position".
The left footed player with his Scandinavian lumberjack thighs will soon be 28 years old. Has he thought about moving? "Over the last two years my departure has often been spoken of. I'm still here and I still have a contract. I feel good here, I respect the club and I think that I am respected as well …" This phrase sums up perfectly Kim's personality. Kim, a man with values. This year he will be reunited with a former Rennes team-mate. "Jimmy Briand sat next to me in the dressing room at Rennes. He's a good guy. A good player who has really progressed, now he is scoring a lot of goals as well. He will bring us his dynamism…".  Kim, has been left alone by the players he used to hang around with, like Fabio Grosso, Milan Baros. "That's football…" We often see him with Rémy Vercoutre.
Kim gets back down to work. With his physique it isn't always easy, but in the Run and Bike session he did really well alongside Bafé Gomis. In the weights room he's not out of his depth either. Abdel Redissi has made him his favourite for the climb of the Iseran. "You should look out for Kim if he is in form …" With the thighs that he has, he could really steam on …
We will be following his fifth season with OL closely, the player recently stated: "we now know how the coach works and what he expects of us..." A promise, we hope, of satisfaction this season.