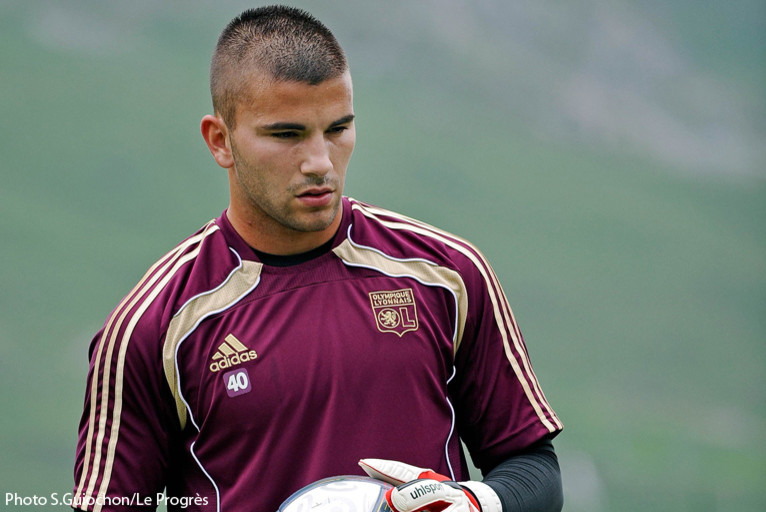 Anthony has just signed his first pro contract. He is a goalkeeper, he is Portuguese… This Wednesday is a little difficult for him after the elimination of Portugal from the World Cup…
He has always played football and has always been between the posts. "My dad was a goalkeeper. He could have made a career out of it with INF Vichy, but his parents wanted him to get a steady job to earn his keep. I started playing in goal at the age of 5 and a half with Chasses-sur-Rhône". The native of Givors arrived at OL in 1999. With his dual nationality (franco-portuguese, he plumped for the Portugal national side at the age of 16. "Because the Portuguese were the first to get in touch with me …" He represented his country at all levels up to the u21's. After a nightmare 2009-2010 season, because of a broken leg, he returned to play, and win, the CFA semi-final and final. "But, I still have to put in a lot of work to get back the strength in my left leg. l'm still missing around 30%".
Explosive and with a strong character, « Antho » seems to fear nothing. «You need to be a little crazy to be a keeper … ». His attitude while relaxing, on the pitch, on the bike should not be mistaken: this young player is a warrior. There can be no question of "going looking for him"! He admits that he needs to think more when something doesn't please him. "I have a tendency to say exactly what I think when I don't like something." He recently signed a one year pro contract with an option to extend for two more which will give him the chance to show what he can do. Why not come to the public eye like Eduardo, the Portuguese goalkeeper who put in a fantastic match against Spain. "Things are tough today after being eliminated. It's a black Wednesday I'm tempted to say …" Finally, does he have a role model. "I always said Casillas, but this season he hasn't performed at the same level".