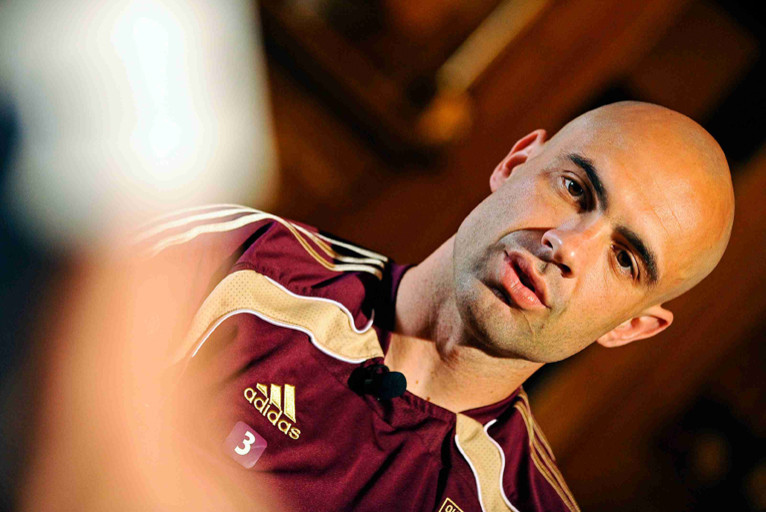 He is starting his 7th season at OL...he would like to extend his contract with the club...He is feeling good at this start to pre-season and wants to be champion of France again...Here are some excerpts from an interview which you can see on OLSystem this Tuesday night...
In 2008-2009, he was the player who spent the most time out on the pitch just behind Lloris with 4 391 minutes from a possible total of 5 040. He scored 4 goals including important ones against PSG and Bordeaux. During his vacation, he did not however forget about last season. "I have not forgotten how we dropped points stupidly against teams like Grenoble, Sochaux… At the end of the day that makes all the difference. Nor have I forgotten our elimination in the semi-final against Bayern, a much more experienced side than ours. My season played out in the same way as the teams, complicated at the start and got better as time went by".
"The Policeman" took good advantage of this long break. "I spent four weeks with my family in Brazil. Then I went to New York for a week with my wife. I still did a lot of sport during the holidays, you have to as you realise how important it is when you start back. I feel good right now. My knee? It's finished, there is no more problem". The player who will turn 33 at the beginning of June is, a priori, starting his final season with OL, but he wants to stay at the club. "I feel great at OL and my family feels at home in Lyon. I said that I wanted to stay. For the time being nothing has been decided. We'll see in the coming weeks, but I'm not too worried. I'm focused on working hard in pre-season. Afterwards anything can happen in football …."
His seventh season will kick off with the same desire. "I haven't changed from how I was when I arrived in August 2004. I still love football just as much … I want to be champion of France again. For me that is the most important". As captain? "I want to play and I know that I am an important player for the group with or without the captain's armband. If the coach tells me that he wants to make someone else captain I will just accept the fact". The Brazilian has seen many partners leave over the years. "That's football. Players have choices to make, just like managers or presidents …"
Just a few hours before the match between Brazil and Chile, it was tempting to ask Cris if he was following the World Cup. "I watched Brazil, but not all the matches. I didn't feel like it. Sometimes it's strange …" Has he had any news from his friend Michel Bastos? "Of course, we've spoken on the telephone. Things are going well for him and he is happy".