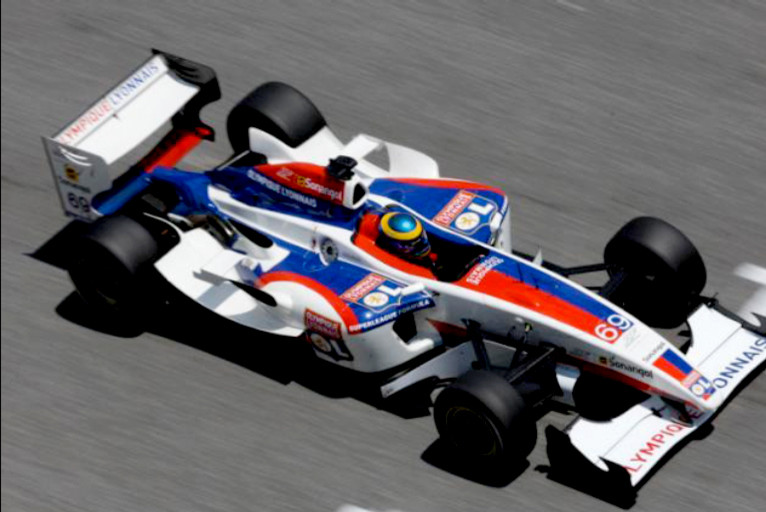 The first leg was once again difficult for Sébastien Bourdais who only managed 14th place, 18 cars started the race.
The OL car started the first leg of the Grand Prix of Germany on the fifth row. However, as early as the second lap and even though he had made a good start, Sébastien Bourdais slid off the track and just managed to avoid the wall of tires. This accident forced him to the back of the race. At the half way stage of the race, the obligatory pit stop went off well, he was unable however to make his way back up the standings. The car seems to be better and better despite a few problems of stability which make the car unstable in fast bends. Bourdais finished this first leg in 14th place, the technical aspect was privileged at the end of the race to allow Olympique Lyonnais to start the next stage on the third row.
The race was won in style by AC Milan who started off in first place and never abandoned their place as leader, Anderlecht came in second and Olympiakos third. Tottenham the leader of the general standings came in tenth in this first leg. The Girondins de Bordeaux finished in 15th position. Three cars were forced to abandon in this first leg: Beijing Guoan, FC Porto and Atletico Madrid. The next leg at 14h00 is live on OLTV. The first row will be occupied by the Chinese and Portuguese clubs, Bordeaux and Atletico on the second row and so Olympique Lyonnais on the third. In the general standings Sébastien Bourdais has taken 10 points and is in 16th position.