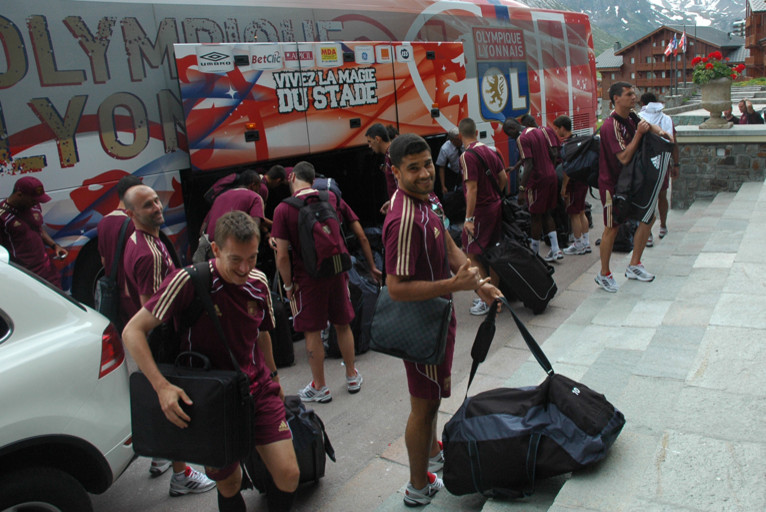 OL left the capital of the Gaules at the start of the afternoon...The left behind the heat for the fresh air of the Savoyard village, their usual location for the first training camp of pre-season...
The trail is well known to the older players like Cris, Vercoutre, Källström… the physios Abdel Redissi and Patrick Perret or the intendants Jérôme Renauld and Guy Genet. They know all about the centre and the programme that is waiting for them, since OL have been coming to Tignes for pre-season preparation for a long time. It is not always fun, whether it be going around the lake at an altitude of 2 100m or up on the glacier, on the inclines of the Iseran hill, in the rapids of the Isère, and obviously on the pitches at the Eric Cantona stadium during the sessions concocted by Claude Puel, Patrick Collot, Vincent Espié. There will be some rough wake-up calls before the right carburant has been found!
It takes 3 hours to drive to Tignes and the hotel Montana. 23 have been called upon by the OL manager. At 19h15, the skies cover up and a light rain starts to fall. OL are in Tignes. It is time to take possession of the rooms before the dinner 30 minutes later. The programme for Monday? A 9h30 start at the Lagon centre for some physical work, then a 17h00 departure for the glacier. A 2h30 walk before arriving at the glacier and sleeping at altitude. A night close to the stars before the excitement of being out on the glacier the next day.
It is time for us to head back to our lodging, a magnificent and brand new residence "Les Almes 1" where we are the sole occupants.  To cap it all off the sun comes out to welcome us. With night falling, teams are hard at work making the mountain ready for the next day's skiers.
The group of 23:
Vercoutre, Lopes, Gorgelin, Gassama, Cissokho, Cléber, Cris, Boumsong, Seguin, Umtiti, Lovren, Abenzoar, Källström, Pjanic, Gonalons, Blanc, Ederson, Lisandro, Delgado, Gomis, Briand, Belfodil, Pied.