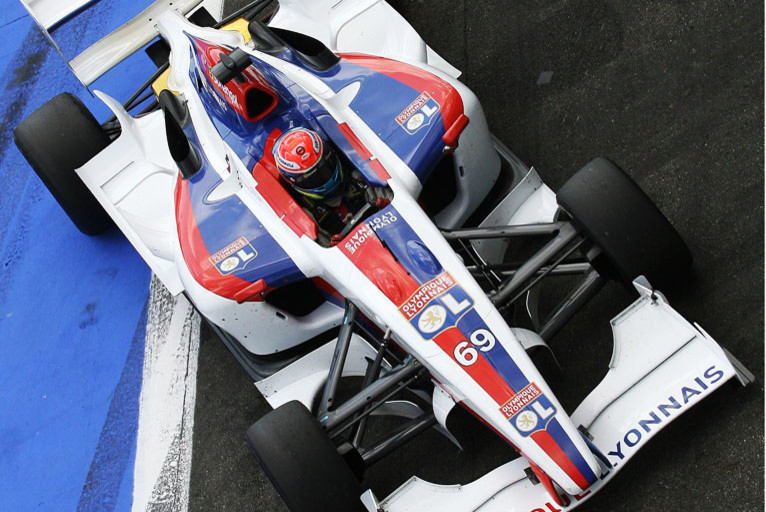 Once again Sébastien Bourdais was forced to abandon, this time just 3 minutes into the second race.
Sébastien Bourdais is decidedly unlucky. If the first leg was quite positive with him taking 7th place, the second was in the image of his start to this Superleague Formula season: "a total lack of success". He drove off the 6th row and started to try and climb up the positions. 3 minutes into the race and Maria de Villota (Atletico Madrid) slid off the track into the gravel trap. The pilot then tried an irresponsible maneuver wanting to get back on course with the chasing pack and Sébastien Bourdais arriving. They crashed into him at full speed, forcing the pilot to abandon: "it was stupid, dangerous and shows a lack of experience", explained the disappointed pilot of the OL car. The Atletico team could only agree with this statement, presenting their apologies to OL. Once again Bourdais only took part in one race, scoring 26 points while Tottenham racked up 72 at the same time.
This second leg was brilliantly won by Girondins de Bordeaux and Franck Montagny who defeated another French pilot Julien Jousse (AS Roma). « I'm happy with this victory, but we still have a lot of work to put in. We need to have more than a 50% success rate », declared Montagny who had been forced to abandon the first leg.
The Super Final was won by Olympiakos ahead of Beijing Guoan and AC Milan. Tottenham span off at the start of the race.
In the general standings Craig Dolby once again had the best result of the day and now holds 323 points. Sébastien Bourdais only managed a poor result and slips from 13th to16th place with 107 points. Bordeaux are 11th.
The next Grand Prix, is on Sunday in Germany at the Nurburgring and will once again be live on OLTV.