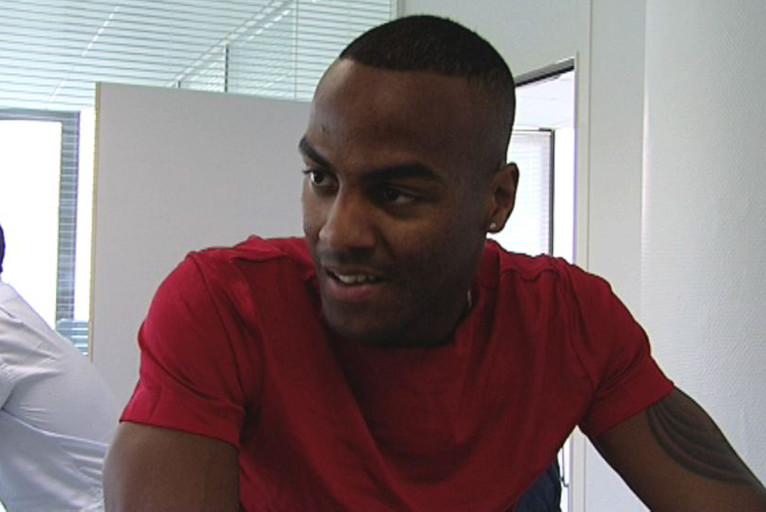 Jimmy Briand has signed a 4 year contract with OL, here is the story of his first day as an OL player.
"I'm delighted to be at Lyon", declared a smiling Jimmy Briand. Arriving last night and welcomed by Marino Faccioli, he then stopped by the celebrations for the 4th consecutive league title of OL's Women. In the female side a number of faces were not unfamiliar to him, players like Laura Georges, Elodie Thomis or Corine Franco.
8h00 this morning, the medical marathon started with the usual blood test. "I'm not worried by these exams. I'm used to it since my injury" explains Jimmy Briand. Effectively, on the 25th of March 2009 during a training camp with the French national team and while the session was coming to an end: "Cédric Carrasso and I crashed into each other violently". He fell to the ground screaming in agony. The diagnosis was terrible: "I ruptured the cruciate ligament in my left knee with problems to the internal ligament, as well as a fractured kneecap. It was more like a road accident than an injury to a football player. I had to put in a great deal of work to get back to the top level, but right now I'm as good as new. I'm happy to have come through it after six months out".
This injury put stop to his international career: "I was on the fringe of the France side, I was in good form. But, that is part of the past and I'm looking forward now". He has followed the progression of the "Bleus" via the television without any regret, but with the desire of making his way back into the squad: "that's just how it is, I'm not there. It gave me a chance to go on holiday for the first time in two years. With this rest I will be fresh for the start of the season with Lyon".
His medical continues in an x-ray centre. All of his articulations, his muscles are looked at and analysed: x-ray, scan, MRI. It is 11h30, Jimmy Briand heads towards another room for an isocynetic test. This test has for objective to evaluate the muscle strength in the thighs and hamstrings: "it helps us to prevent muscle tears in the legs", explains a physio.
12h30, he has a little break and is able to answer a few questions: "for me OL is the club of the last decade. They are the biggest team in France. I can play in a number of positions, but will go where the coach wants me to go. I will be at the service of the team".
After lunch at 13h30, the final tests are scheduled in a clinic in Lyon. Jimmy Briand has to put in a little effort for the cardio examination. 15h00, the end of the journey. Before jumping into a taxi, he has a few words for the supporters: "I will continue playing with my warrior spirit. I will do all that I can to score a lot of goals and make you happy". A big smile illuminates his face, he gives a little wave and the car heads off.