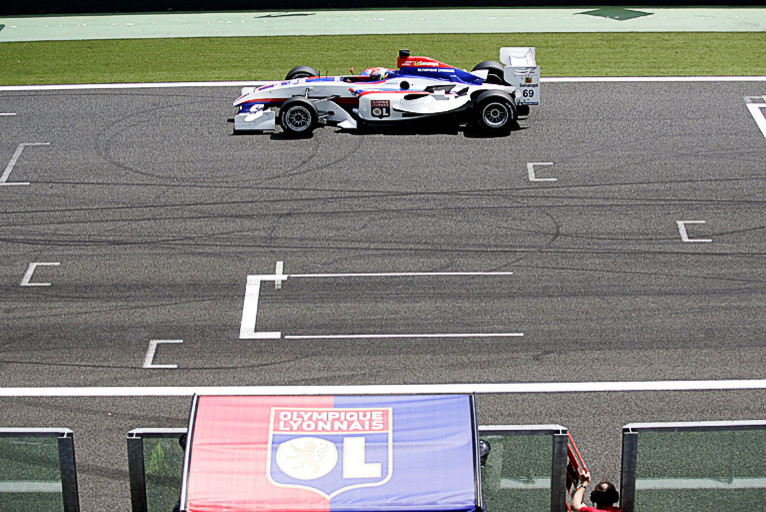 Sébastien Bourdais was forced to abandon after a collision with the Girondins de Bordeaux car.
Sébastien Bourdais drove off from the 5th row for this second leg, alongside him was another French pilot Franck Perera (Flamengo). Before the race, the OL team had indicated that on the Magny-Cours circuit it was very difficult to overtake and that risks would have to be taken. Those risks were, in effect, taken. As early as the first lap of the second round, the first collision took place between Corinthians and FC Sevilla. The Brazilian team tried to overtake and crashed into the FC Sevilla car. Both cars were out. On the other hand a very good start was made by Max Wissel (FC Basel) who broke away and would not be caught. In the 7th lap, Sébastien Bourdais in 8th place tried his chance "he tried to overtake dangerously, it was strange as he is a confirmed pilot" cried Franck Montagny (Girondins de Bordeaux). In effect, when trying to overtake Bourdais violently collided with the car of Franck Perera (Flamengo) and indirectly that of Olympiakos. All of these cars were forced to abandon. "I'm disappointed, angry and I'd like to apologise to Franck Montagny" stated Sébastien Bourdais. The race was delayed for around eight minutes because of the debris on the track. FC Porto were then forced to abandon after mechanical problems. On lap 22 the Chinese team of Beijing ran out of petrol. The second leg was won by FC Basel ahead of AS Roma (Julien Jousse), Anderlecht came in 3rd and Tottenham 4th.
Then came the Super Final with the six best teams from the two legs: AC Milan, Anderlecht, Basel, Liverpool, AS Roma and Tottenham. There was no suspense in this race which sawAC Milan lead from the start. Julien Jousse took 4th place, in the final lap, from Liverpool. The best performer of this Grand Prix de France was the AC Milan pilot: Yelmer Buurman winner of the first and third races.
In the general standings: Tottenham are still in the lead with 250 points ahead of AC Milan 199 then Anderlecht 151. Olympique Lyonnais remain joint 13th alongside Bordeaux, both teams have 81 points.
The next Grand Prix will take place in Spain on the Jarama racetrack on Sunday the 20th of June.