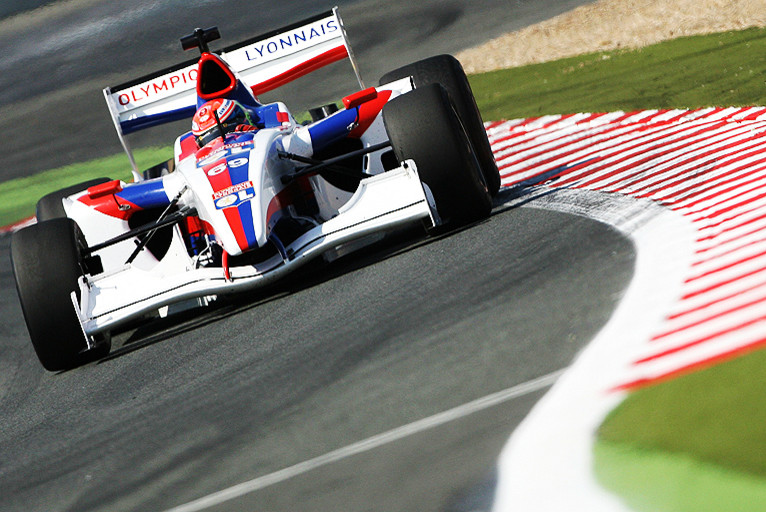 Sébastien Bourdais (OL) left from the 4th row in this first leg of the Grand Prix de France, finishing in 9th place at "half-time". This first leg was won by AC Milan.
It is almost a summer's day here at Magny-Cours with the temperature already reaching 23°. Sébastien Bourdais for Olympique Lyonnais started the race on the 4th row with the big winner at Assen last week Anderlecht alongside him. Pole position was taken by the Superleague Formula leader Craig Dolby (Tottenham) accompanied by AC Milan. As of the first lap the Italian club took control of the race a situation they would not relinquish. Tottenham were never able to worry Yelmer Buurman (AC Milan). Sébastien Bourdais stayed in 7th place during the first half of the race but after a change of tires found himsdelf down in 9th position in between the Flamengo of Franck Perera and the Girondins de Bordeaux of Franck Montagny. On a circuit where it is very difficult to overtake the OL pilot was unable to make up this loss of position. This leg was marked by the abandon, during the first lap, of the second place pilot in the general standing Marc Wissel (FC Basel) who scored no points but will still head of from the first row in the second leg this afternoon.
After this race, Craig Dolby is still in front in the general standings with 213 points ahead of AC Milan 164 points, 3rd placed Olympiakos, Olympique Lyonnais are in joint 12th place with the Girondins de Bordeaux. For the next leg, at 14h00, Sébastien Bourdais will head off from the 5th row with Flamengo. You will be able to follow this race live on OLTV.