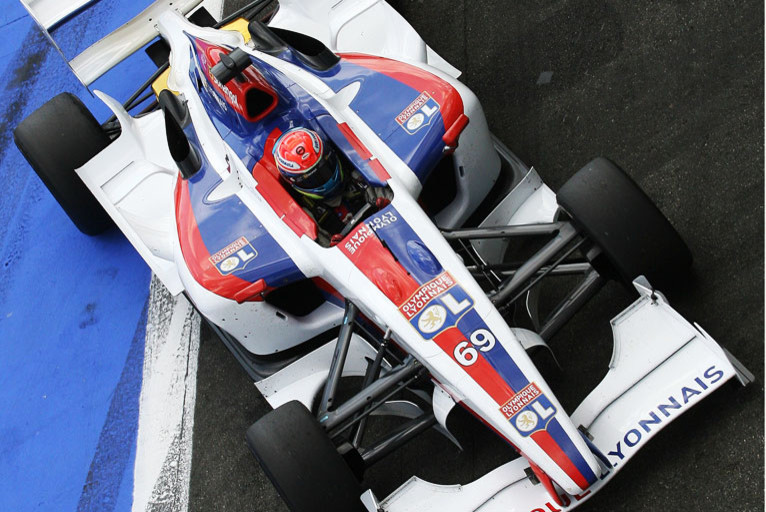 After the first two races of the 2010 season at Silverstone (Great Britain) and then Assen (Holland), the contendors in the Superleague Formula will be at Magny-Cours this week-end.
The grand prix of France, last year, kicked-off the Superleague Formula season. Liverpool won the first round and the Super final, AC Milan won the second. This week-end Magny-Cours is the 3rd Grand Prix and the Tottenham team of Craig Dolby is leader in front of FC Basel and Flamengo. Olympique Lyonnais occupy 15th place.
Sébastien Bourdais had a terrible week-end in scoring no points whatsoever. They had trouble with the tires and problems with the clutch during the qualifying rounds, and a crash with FC Porto as of the second minute of the race which forced them to abandon definitively, the team not having enough spare parts to repare the vehicule.
Sébastien Bourdais wants his revenge, as of Sunday. There can be no more question of dropping points, at the risk of falling away from the top three places, which is an objective for Laurent Redon's (Olympique Lyonnais) team.
This grand prix should also see a race within the race between the French pilots. There will be five French drivers, fighting it out for national supremacy: Franck Montagny (Bordeaux), Franck Perera (Flamengo), Tristan Gommendy (Galatasaray) and Julien Jousse (AS Roma). The duel between the Girondins and Lyon is one to follow as well, Bordeaux have a slight advantage at the time being, leading OL by 2 points.
Qualifiers will start tomorrow (Saturday) from 14h45 and we should have the grid positions at around 16h30.
The first round will take place on Sunday at 11h00 then the second at 14h00 with the super final kicking off at around 15h00, you will be able to follow this grand prix live on OLTV this Sunday.