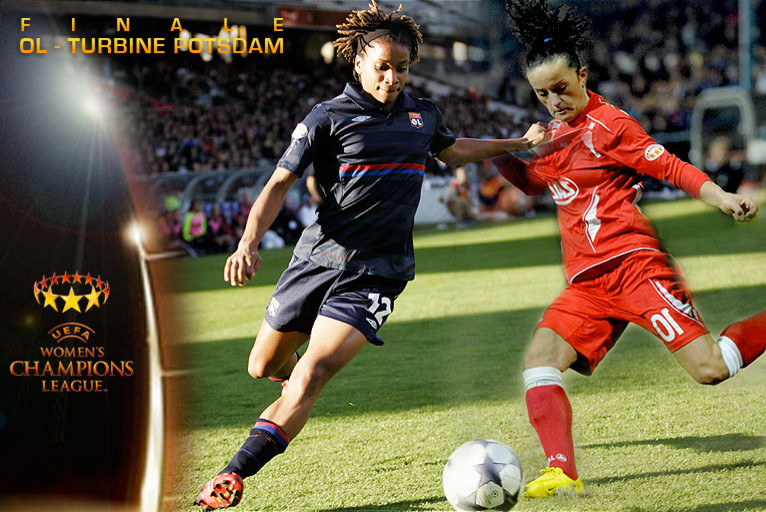 The OL women's team will defy the Germans of Turbine Potsdam tonght at the Coliseum Alfonso Pérez of Getafe, in the final of the Champions League.
OL's female players are the first to represent a French club in a Women's European Cup Final. This is a reward in itself according to Katia and Laura Georges at yesterday's press conference: "Thank you for being there to see us, for taking an interest in us", declared an emotional Brazilian to the gathered journalists. This just goes to show that the stakes are not just sporting in this first Women's Champions League. OL's women want to win for themselves, for OL and for women's football in France, which is lacking media attention.

After having discovered the superb 17 000 seater stadium in which the match will take place this evening, Farid Benstiti's players then let the Germans have their turn, which gave us the chance to see the talented Fatmire Bajramaj in action. The former Duisburg playmaker possesses all the qualities which represent German football: technique, speed, physical engagement and determination. Suffice to say that the task facing OL will be delicate. But, as the OL manager Farid Benstiti admits: "a final is just one match, so anything is possible. Between Lyon and Potsdam, it's 50 – 50".

Eliminated at the semi-final stage two years in a row and then on a technicality this year before being reinstated by the CAS, Lyon are very enthusiastic at the idea of playing this final. Yesterday, the squad's habitual good humour had not been crushed by the scale of the event, a symbol of the pleasure that this elegant and technical women's football brings. In Getafe, the 17 000 spectators should be in for a good show thanks to the two best sides in Europe.