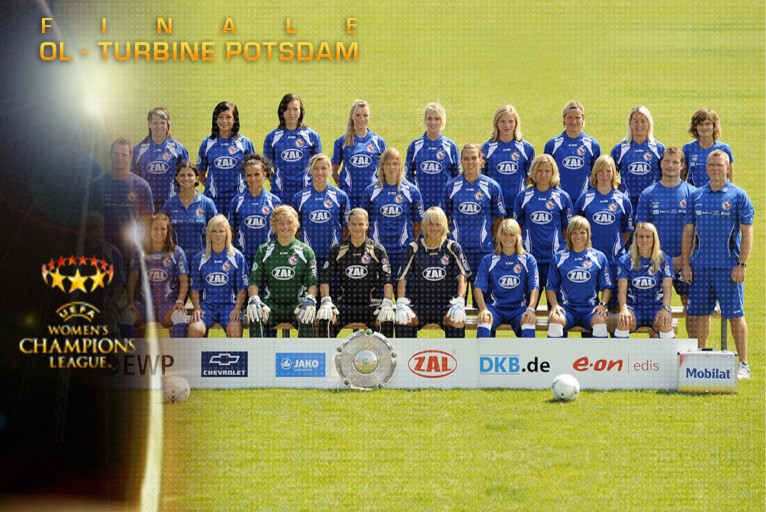 Two days before the final of the Women's Champions League, here is a presentation of OL's German opponents.
If OL are getting ready to play in their first European Cup final, Potsdam are old hands in this type of huge game. Victors when they first participated in 2005, unlucky finalists the following season against Francfort, Turbine have a rich European history. Bernd Schröder's players will be taking part, against OL, in their third final in four participations, and thatis certainly not down to luck.
At 67 years of age, the German manager is a sort of local Sir Alex Ferguson. Bernd Schröder shares the same place of birth as the Manchester United technician, Glasgow, but also the same loyalty and success with his club. A former amateur goalkeeper, he became the first Potsdam coach in 1971, the start of a great and long adventure. From the regional division to the European Cup, with a detour to the women's national team of East Germany and the post of Potsdam president, Bernd Schröder has been through it all. He has won six titles of champions of East Germany (1981, 1982, 1983, 1985, 1986, 1989), three German Cups (2004, 2005, 2006) and four German league titles including this season (2004, 2006, 2009, 2010). This is an exceptional record when you are aware of the strength of German women's football which has won a great deal of European and world titles.

Supervised on a number of occasions by the OL staff, Turbine Potsdam resembles OL quite a bit in their attacking style and their desire to build up attacks. The striker Anja Mittag who has already scored nine goals and the former Duisburg player Fatmire Bajramaj would appear to be the principle dangers. Effective from set pieces, the Germans appear to have only one slight weakness: their relatively young side. OL, who suffered against the masterful performance by Duisburg last season in the semi-final, will have to try and take advantage of this in order to win the midfield battle.