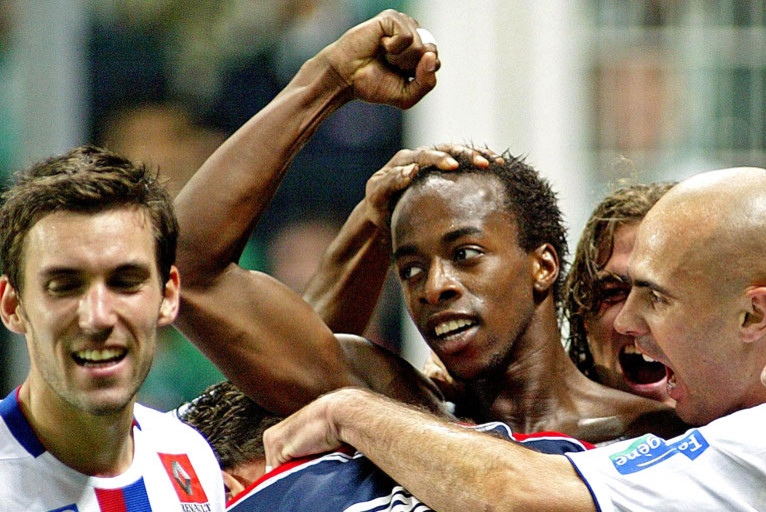 As we leave each other, images come back before the emotion hits us on Saturday as he plays his final match for OL...
At the end of the day this guy never did anything like anybody else; he is not made like anyone else either as his serious injury to the Achilles tendon at the start of 2010 proved. 4 months later and he was back in action without any pain! His athletic body, helped by his genes got him back on his feet quicker than initially thought.
« Sid », different from the others because without it being obvious he has become a boss in the dressing room even though he gave the impression of not caring about collective life, her who often said that he rarely spoke out in public, but did speak to everyone. He was never just a player, or a clan man. He was even one of the captains of these last few superb seasons.

« Sid » is not like the others before a match or on the pitch. He first of all takes his time on the pitch, talking and laughing. There is no question of him isolating or closing himself off. Then comes the match. He becomes extremely generous. He runs, he dribbles, tackles, closes players down, gets back in position, defends, shoots, accelerates and jumps as long as there is gas in the tank. He is unpredictable as well, in not knowing what he is going to do in advance. After having given so much, his demeanor changes and then comes the moment he detests. He is taken off, what frustration!
« Sid » is not like the others. Generous in his life, a good liver is how we could characterize him, all the while being timid, modest, and detesting physical contact to show him the slightest mark of affection. Off the pitch he leads his life as he wishes and does not want to hide, risking making the headlines and paying the consequences. Let him be judged for what he does whilst working!
« Sid » is not like the others when he speaks to the media. Intelligent, he always says what he means, whether it pleases or not. His thoughts are well ordered and alive. These moments are always enjoyable. When he doesn't want to answer any questions, he lets it be known firmly. You mustn't give him any trouble! He also knows how to hold a grudge when he is not given respect, whoever is speaking to him. "Sid" is also sensitive.

« Sid » is not like the others. He has spent 11 seasons at the highest level wearing the OL jersey, the only shirt he has worn before this final match against Le Mans. The native of Brive-Charensac joined the OL academy at the age of 17. A relatively late arrival which was explained by his difficulties at finding a place in his club of Puy-en-Velay because he was considered to not have the right physique. Happily enough, he had not slipped past the eye of the OL recruiter, just as he was noticed by Bernard Lacombe who threw him into the spotlight on the 15th of January 2000 against Auxerre. He would make a name for himself just a few weeks later in scoring an important goal in the Coupe de France. « Sid » a striker alongside Sonny and Steve… « Sid », would then, move to the flanks.
« Sid » is still not like the others. He discovered the Champions League in 2001-2002 and scored two goals against Bayern's illustrious goalkeeper Kahn. « Govou was exceptional… ». This statement came from Omar Hitzfeld, the Munich manager. Already capable of achieving the most difficult he was also able to miss the easiest just 8 days later in Moscow against Spartak. « Sid »? A player capable of putting away exceptional goals and missing the unmissable just like the goal he managed to miss against PSV Eindhoven at Gerland. He has however made it into the Top 10 goalscorers in the history of the club with 77 goals and at least one scored in every competition he has played in!
« Sid » is unique. He managed to find himself in the right place at the right time to score the only goal of the Coupe de France final against PSG on the 24th of May 2008 in the 102nd minute. He also managed to score a hat trick during the Champions Trophy match against Lorient in 2002 with an exceptional headed goal from the edge of the penalty area!

Sid » was still unique in his international career. Not picked for the Euro 2004 or the 2006 World Cup, he did not make any waves. But an injury would change everything. One telephone call and he turned up no problem. At 30 years of age he has a respectable 43 caps and 10 goals with the hope of heading to South Africa in just a few days.
« Sid » was also « extraordinary» with his numerous different hair styles, clothes or cars.
« Sid » is finally on a different level with his incredible results at OL: 7 French titles, 1 Coupe de France, 1 Coupe de la Ligue, 4 Champions Trophies with a hat trick scored in the first against Lorient, 1 Peace Cup.

He has had a top level career at OL without ever having looked to leave. Departure? This is a word that has often been heard in regards to him. A word which has become a reality before his 412th match with the club. This departure will generate a great deal of emotion just as « Greg's », « Juni's », and Claudio's did… Emotion just like his celebration of his goal at the Stade Geoffroy Guichard in a derby match. Abdos out for all to see, a huge smile …in the direction of the Lyon supporters surrounded by his mates.  He had just scored the winning goal (3-2) in stoppage time. He was delighted and shared this most special of moment.
How can we forget this entire period? Impossible and it deserves at the very least this great thank you.
 

411 matchs with OL:
- 291 in the L1
- 5 Champions Trophies
- 71 Champions League + 4 UEFA
- 17 Coupe de France
- 23 Coupe de la Ligue

77 goals: 49 in the L1
- 4 in the Champions Trophy
- 8 in the Coupe de France
- 5 in the Coupe de la ligue
- 10 in the CL and 1 in the UEFA


7 titles of French L1 champions

1 Coupe de la Ligue

1 Coupe de France (unique scorer in the 1-0 victory)


4 Champions Trophies

43 caps and 10 goals