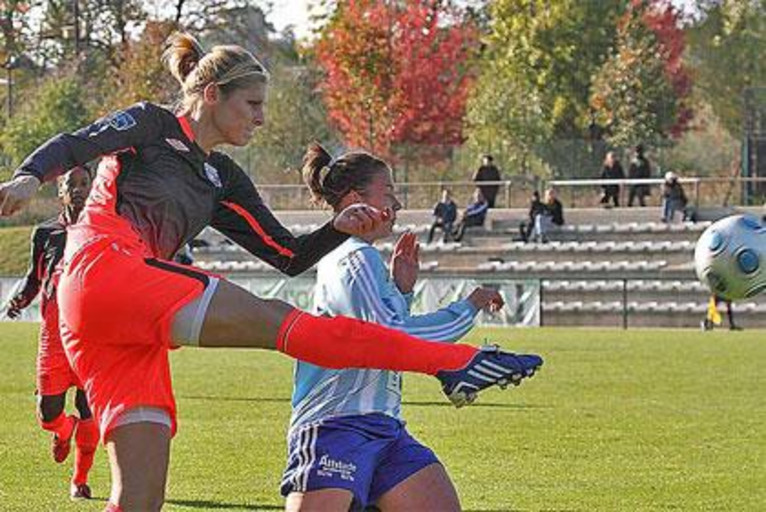 Just seven days before their Champions League final against Turbine POtsdam, OL's women travel to Soyaux this Thursday afternoon for their game in hand in the D1.
In exactly one week's time, OL's female team will be playing the most important match in the history of French women's football: the final of the Champions League in Getafe against the Germans of Turbine Potsdam. Before playing against the elite of Europe, Farid Benstiti's players are up against one of the French leagues poorly placed sides this afternoon. Soyaux occupy 11th, or second bottom, place in the D1, a pot synonymous with relegation to the D2. The former club of the OL defender Corine Franco (photo) has only won 3 matches out of 18 up until now, scoring only 10 goals, the worst attacking total in the division. In the encounter between the two sides earlier in the season, OL easily won 5-0 thanks to two goals from Louisa Nécib (who will almost certainly be rested this afternoon) also on the score sheet were Lotta Schelin, Sandrine Dusang and Elodie Thomis.
This final test does not appear to be at the same level of the event which is waiting for OL's players in Getafe. But they will still have some pressure weighing on their shoulders this afternoon as the leaders Juvisy still hold a 5 point lead over OL. By winning one of their two remaining games in hand, the three times French champions can pull themselves back level with second placed PSG, and just 1 point from the top spot (a victory is worth 4 points). To do so, Lyon will try and be as serious as they were away to Nord Allier where they were victorious 3-0 last Sunday, thanks to goals from Elodie Thomis, Lara Dickenmann and Sandrine Brétigny. Only afterwards will they be able to focus on their final.


OL Women group:
Goalkeepers: Bouhaddi, Pons
Defenders: Georges, Renard, Dusang, Rybeck, Franco
Midfielders: Cruz, Henry, Kaci, Dickenmann, Simone
Forwards: Thomis, Katia, Brétigny, Herlovsen
Christine Nilsen, Coralie Ducher, Ines Dahou, Louisa Nécib should not figure on the team sheet but have still made the trip to Soyaux. Ingvild Stensland is convalescent.