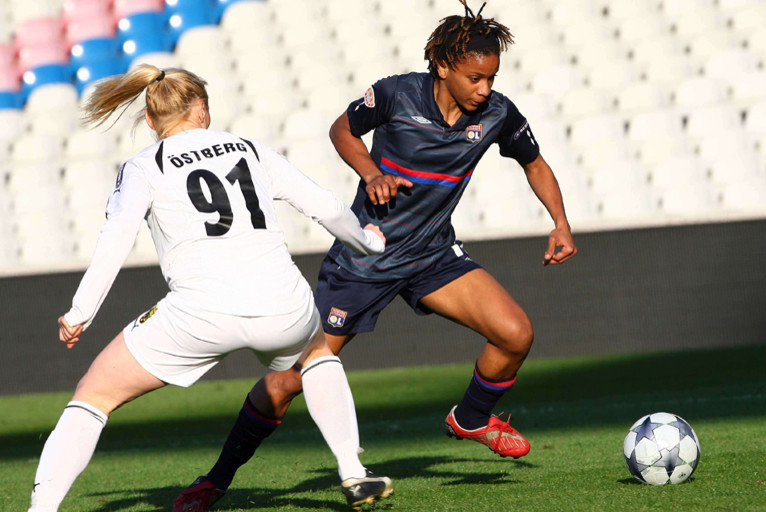 A winning return to the league for Farid Benstiti's players, victorious 5-0 against Montpellier this Sunday afternoon at the Stade de Gerland.
Before the Sunday's big match between the men at La Mosson, OL's women easily won their game against Montpellier. At the kick-off, the two sides were, however, joint third in the table, with games in hand. But, with the momentum from their qualification for the final of the Champions League, OL gave no gifts to their direct opponents.
Elodie Thomis, played in deep by Aurélie Kaci, won her duel with the keeper to open the scoring (1-0, 36'). The former Montpellier obtained a penalty just before the break, which Amandine Henry fired home (2-0, 45'). In the second half, Thomis, who was unstoppable, added a third, heading home a Louisa Nécib cross (3-0, 53'). Sandrine Brétigny then came on and scored two goals between the 71' and 77' (5-0).
Thanks to this win, OL remain in touch with Juvisy, 3-0 winners away to Soyaux and PSG who won 6-0 against Montigny. If they win their three games in hand, the reigning French champions could pull themselves back into first place.
OL Women line-up:
Bouhaddi - Franco, Simone, Renard, Rybeck - Henry (Dusang 72'), Stensland, Kaci, Dickenmann (Katia 60'), Nécib - Thomis (Brétigny 60').