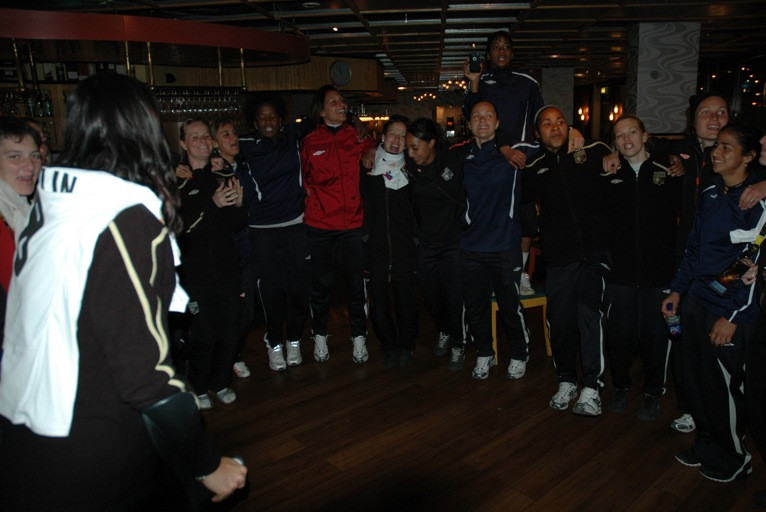 OL's women celebrated their qualification for the final of the Champions League in style this Wednesday night against Umeå in Sweden.
Victorious 3-2 during the semi-final first leg at Gerland, OL's women let their joy explode at the end of the 0-0 draw obtained on the pitch at Umeå. After two consecutive failures at this stage of the competition, Farid Benstiti's players have finally gone down in history, by becoming the first female French side to qualify for the final of a European cup. The match will take place in Getafe on the 20th of May against the Germans of Turbine Potsdam.
Started out on the pitch, the party continued in the changing rooms where the plpayers serenaded the President Jean-Michel Aulas. Led by the Brazilian Katia, all the supporters songs were sung. From the specifically OL: "We're going to sing for you, Olympique Lyonnais come on come on …", "Red and blue are our colours, we are OL in our hearts …", to the more traditional: "We're in the final, we're in the final …" and especially: "President, President, President…".
After having given them a generous macth bonus which he will double if they are victorious in the final, Jean-Michel Aulas showed his own delight: "It's an unforgettable moment as we have had to try three times to get to the final. Without Lotta Schelin,the players found the way to go beyond themselves and win this qualification. We were very disappointed with the elimination of the guys at the hands of Bayern. The club has been able to bounce back thanks to its women who will take us to Getafe. The men will be invited along to support the women on the 20th of May".
Music, dancing and joyous scenes continued right back to the hotel where the players sang about the team's staff. Louisa Nécib then led a conga line before a new song was repeated a number of times: "We're all going to Getafe… the qualification is deserved …" For Getafe to become synonymous with paradise, the team will have to win their first ever Female Champions League final. OL have three weeks to prepare themselves.