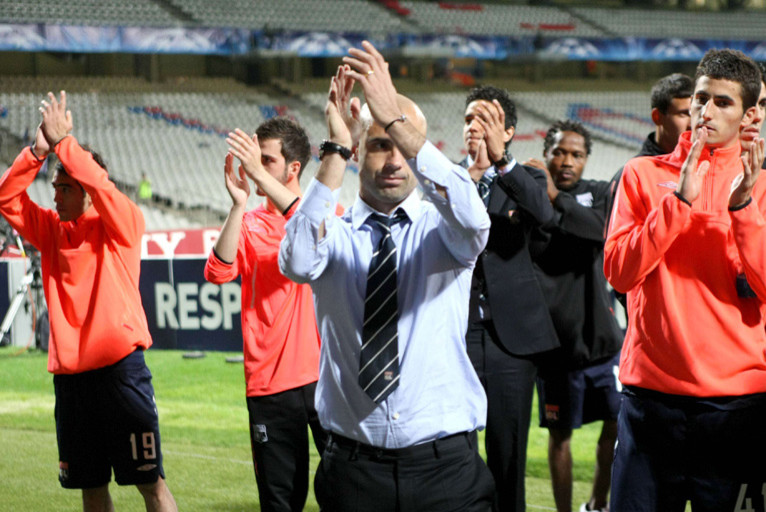 It was Bayern who, logically, qualified for the final on the 22nd of May in Madrid. OL must now focus on the end of the season in order to obtain a place on the L1 podium…
There is no shame in being dominated tactically, physically, technically or mentally. There is no shame in losing against a team that is stronger than you. But, that does not take away the frustration or the disappointment. Over the course of the two matches against the Bavarians, OL just did not exist as the visual impression and statistics attest. 35 shots to 16… 10 on target against 2… 4 goals to 0… 15 goal scoring chances to 3… 63% of possession as opposed to 37%.
More than the figures, there is an impression of almost total powerlessness against this impeccably organized team, which respects their orders and is served by powerful athletes and a few footballers of great talent. There is also a desire to move forward at all times. 18 players used in 180 minutes and not one of them looked tired. A team which had played three days earlier was fresher than another that had spent its time recuperating … A squad, with a mixture of youth and experience, a squad which has benefitted from this winning mentality.
Once again, despite the tactical change, OL barely saw the ball. Since the last 16 first leg match against Real Madrid, Lyon have managed an average possession of 35%. Just not enough! Football is a sport played by 22 people with a ball. The best idea would be to have the ball... It is difficult to impose at such a level when you spend your time chasing said ball. Or, you must be incredibly strong, hyper efficient, focused, lucky and trained to play that way...
We would have liked to see this ball at the feet of an OL maestro to accelerate the play, calm his team-mates, and organize the game. We would have liked to have seen a certain amount of extravagance, or physical impact despite the notable absence of Toulalan. We would have liked to have seen the team united in their individual expression. The work ethic was missing, as much a consequence of what the side was lacking as their opponents superiority. In the defence of the Olympians, they were not at all helped by two very severe red cards. Would that have changed anything? We can only hope so. In conclusion, Bayern were quite simply the better side.
The dream is gone. The party is over. Considerations must now be focused on the daily grind which in turn brings about these star-studded evenings. OL have five matches to go in their quest for a place on the podium, an objective which is eminently achievable, if complicated. What will be their capacity of reaction as of this Sunday away to Montpellier before following up with the reception of Auxerre? That is a good question! 5 matches to get something out of this season, a ticket for the Champions League or at least the Europa Ligue. Real conclusions will be drawn on the evening of the 15th of May. The home stretch starts of Sunday in Montpellier. OL have now gone five matches in a row, since the trip to Rennes on the 3rd of April, without winning. These three points would do them a world of good.