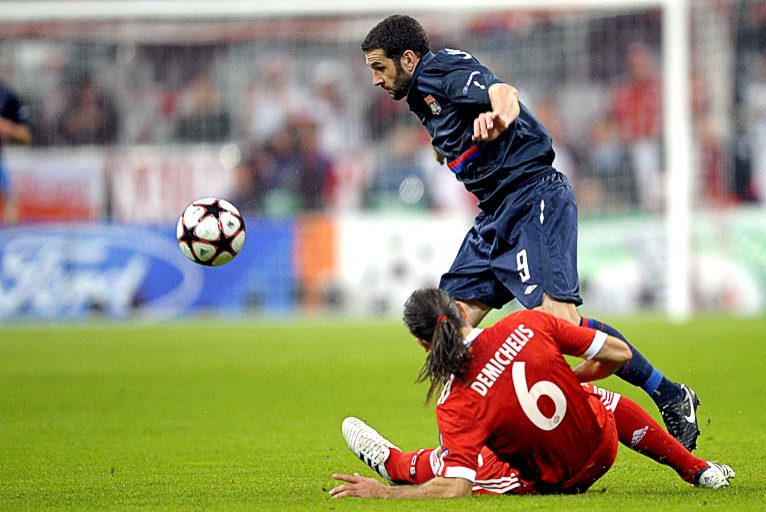 Lisandro Lopez looked back on the semi-final first leg in Munich… He also replied to questions which concerned him more specifically…
Lisandro have you moved on from the disappointment?
"We've already started focusing on Tuesday night's match, we will have to rectify the errors we made on Wednesday. The mistakes? We saw them and they are evident. The team needs to change attitude and mentality. We played far too defensively. We need to be more positive in order to modify the result".
Did OL miss an opportunity when they were a man up?
"Yes, but also when it was 11 against 11. We had chances to get forward, but playing too defensively is not enough to defeat Bayern. Fatigue? I didn't feel any, despite the long journey. Fatigue can disappear with motivation, but maybesome of the players were affected by all of these kilometers traveled on the bus".
Is it not too frustrating to not have the ball very often?
"Of course, especially being a forward. When the result is not in your favour it is even more frustrating. Afterwards, I try and take part in the match, you have to get used to it".
What do you think about Ribery's attack?
"I don't think he did it on purpose. He went for the ball but I got there before him. It was definitely a red card though. Do I feel targeted? No, I don't think so. When we play sometimes it is close to the limit and a striker is always exposed. That's football ».
Are you back to 100% after the knocks you took to the ankle?
"No, not yet. The clash with Ribéry brought a pain that has disappeared now, but not the one I suffered because of Henrique. My ankle is still swollen, I haven't completely recuperated. I hope I will be better before Wednesday".
A word on the absences of Ribéry and Toulalan?
"I can only speak about Toulalan. "La Toule" is very important to us. He is a very adaptable player. It's a suspension that could cause us problems. Let's hope that we can compensate for his absence".



"The season is not over
yet. There are still some

great moments to come.

"



Are you impatient for the return leg to come around?
"Just like any other match. I am working for it in the same manner. The little extra here is that it is the semi-final of the Champions League at home. There will be a great deal of motivation. It can become a historic moment for the club and the majority of the players. We have to be at 100%. Those players under threat of suspension will be as well, when you step out onto the pitch you forget about things like that. Will I do something like I did before the match in Madrid? I don't know, we'll see at the time".
Are you aware that the supporters expect a lot from you?
"I feel that I am an important player for the team, just like the others. But I work like everyone else in training and in matches. I give my all".
What do you think about your record with OL?
"I feel good. The team is moving forward but I always want more for myself and the squad. I expect more. Afterwards it's true that there are differences with Porto, the style of play, the opponents. The season is not over yet. There are still some great moments to go through. An objective concerning my goals? No. The objective is to be as good as possible and to help the team. Even if I don't have any fixed objectives concerning the amount of goals I want to score, I still hope I will put some more away".