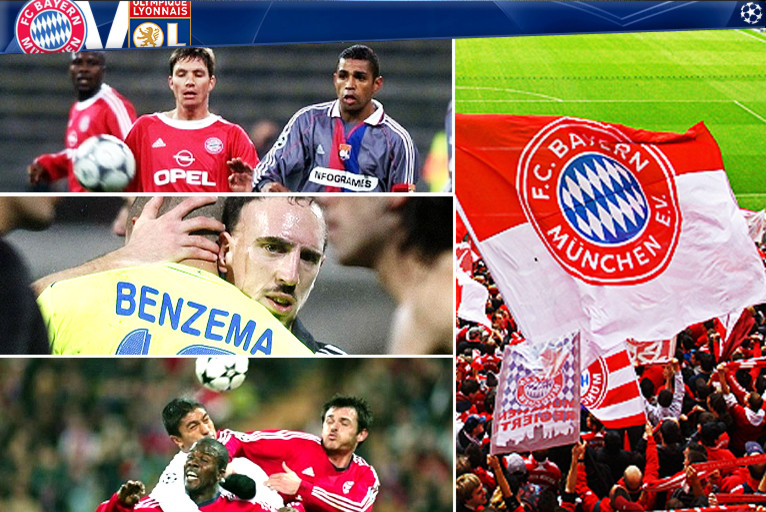 One defeat...a victory...and a draw...OL have done reasonably well in Bavaria against Bayern Munich...
The first match took place on the 22nd of November 2000. It was the first match of the second group stage. The German club won 1-0 with an own goal from Jeremies (55th). There were only 18 000 spectators in the Olympic Stadium.
OL: Coupet – Deflandre, Edmilson, Müller, Bréchet – Violeau, Laigle, Linarès, Dhorasoo (Malbranque 82nd) – Anderson (Bak 74th), Marlet (Vairelles 89th). Manager: J. Santini.
The second match took place in November 2003 in the freezing cold of the Olympic Stadium and in front of 58 000 spectators. A superb long range free-kick from Juninho (6th)… was followed by a rapid equaliser from Makay (15th) before an emotional goal from Elber (53rd) which gave OL the victory. Elber, the former favourite of the Bavarian supporters was given a standing ovation as he left the field. OL put in a fantastic team performance showing great efficiency in front of goal, scoring twice from four shots!
OL: Coupet – Réveillère, Müller (cap), Edmilson, Berthod – Diarra, Juninho (Carrière 90th) – Essien (Govou 77th), Luyindula, Malouda – Elber (Cacapa 79th). Manager: Paul Le Guen.
The third encounter took place last season on the 30th of September 2008. A free-kick from Juninho deflected by Demichelis gave the advantage to OL (25th). Ze Roberto equalised at the start of the second half (52th) played in by Klose. OL showed two faces, a good performance in the first half and a more complicated second half. Hugo Lloris out in a top level performance in goal with two decisive saves. This match was played at the Allianz Arena in front of 64 000 spectators.
OL: Lloris – Réveillère, Cris, Bodmer, Mensah – Juninho (cap) (Boumsong 87th), Toulalan, Makoun – Govou (Ederson 36th), Fred (Mounier 75th), Benzema. Manager: C. Puel