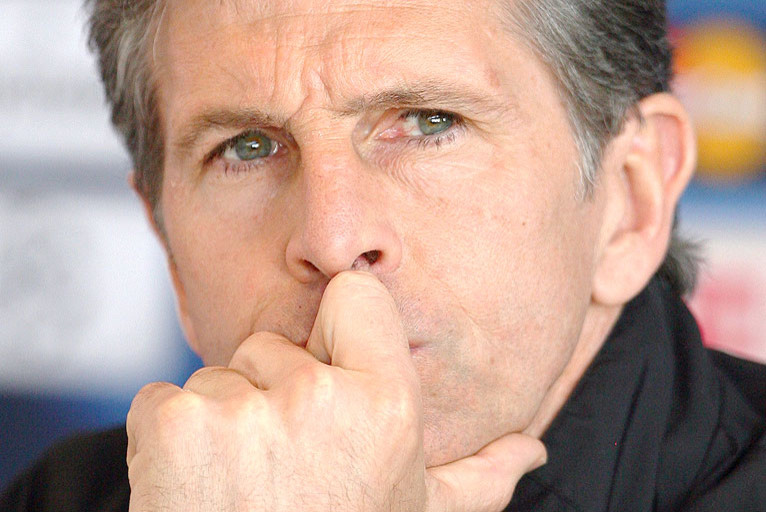 Everything focused on the match against Lille, a match that Cissokho wil miss...and the end of season schedule...
What does the injury situation look like?
"Boumsong has another strain in the same calf. He could be out for two to three weeks. Makoun started running on Friday, he will come back step by step. Cissokho twisted his ankle again and is in pain in the same place as before. He will be out on Sunday".
Claude, is playing against Lille still special?
"I'm not going to go over old ground. I know this team well, that they have a lot of quality and have had a week to prepare. The fact that they have the best attack in the league doesn't surprise me. They have often played in high scoring matches. They can count on Gervinho who has stepped up a level, on Hazard who is in constant progression, has great potential and proves it in each match".
Are you worried about Sunday?
"We know what needs to be done. We put in a great performance against Bordeaux and we are going to be up against a side that puts a lot of intensity in everything that they do. The match will be intense and will be decided in our heads and with our physique. I hope that we will have recuperated. Put Lille 6 points behind us? Let's play this match first. We are up against a direct opponent. Lille are a side that could win the title. It's going to be a tough match. It is up to us to develop our game against a side who have a strong defensive block and who get forward very quickly".



"We hold our destiny in

our hands. That is a real


pleasure when you love

football"



Could we talk about a revenge match?
"I just hope that we don't make the same mistakes as before when we had the game in our hands. At the end of the day we didn't negotiate this match very well".
How are you taking the forthcoming schedule?
"Well, we have two competitions to play for. We are the only club in France in that situation, a lot of teams would like to be in our shoes. We have our destiny in our own hands. That's a real pleasure when you love football, competition. The squad has matured over the course of the season. We have to qualify for the Champions League. It's up to us to do what is necessary … "
Lille and OL are two similar clubs?
"OL were groundbreakers in terms of club structure and organisation. Lille have followed. They have managed to build their structures and progress without the same means as OL. Lille also have the sporting results. They are a well structured club with a solid base just like OL".
Is the elimination from the Coupe Gambardella the only dark point?
"For the youngsters it is a superb competition. They lost against Metz on penalties and it is a shame. But, I'd like to say to these kids that the most important thing is their training. I'm satisfied about what has been achieved and the set up with the PRO2 group. Winning a Gambardella, it's good, but that doesn't mean that these players will automatically turn professional. At the risk of repeating myself, what interests me is their training".
What about the female side?
"I watch their matches. At OL's level it is interesting as they gave good technique and a lot of quality in their play. It's nice. I might go and see the end of their match on Saturday after our training session".